Today I am sharing a baby quilt that I made using the Charm Dash quilt pattern, which is a new pattern from Ms. Midge! You can get the pattern at Craftsy and Etsy and right now it's on sale!
This is a great quilt to use your charm packs, of which I have many to use. I'm sharing a lot of pictures so I hope you enjoy them! This is my stop on the Charm Dash Blog Hop.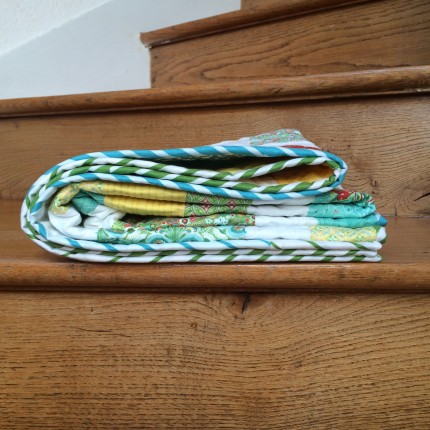 I started the quilt quickly, deciding I want to use the Flora charm pack and make a baby quilt, this used nine blocks. I have a lot of baby quilts to make and this one is going to my son's first preschool teacher. She had a little girl recently and I can't wait until we can give this to her!
I decided to set the blocks apart and use a sashing instead of putting borders on it. I quilted the sashing in straight lines and love how it looks. This is definitely a favorite way to quilt, even if it takes a lot of thread and of course time.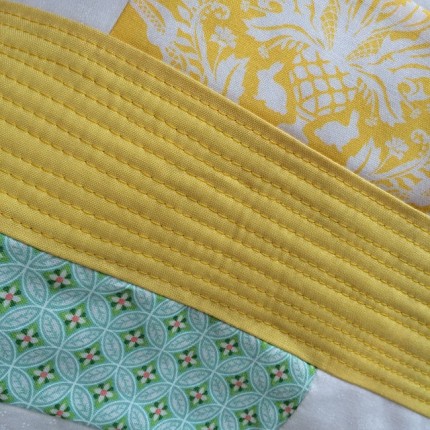 After that, I had to decide how to quilt the blocks. I used a turquoise thread and did some straight lines, and as much as I loved the design, it was too bright for me. After looking at it for several days, I tore the quilting out. Maybe I would have left this in if I used a neutral thread.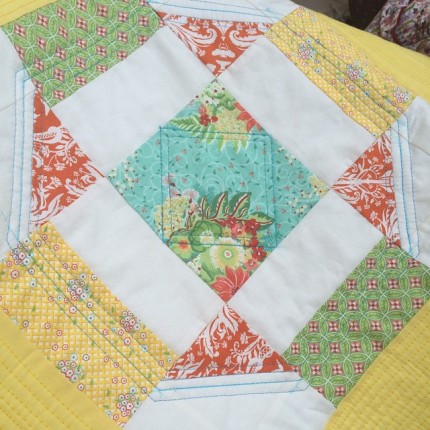 Finally, I quilted the blocks with an all over stipple with white thread.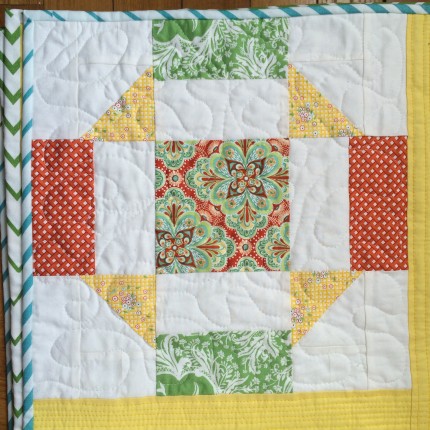 And yep, I used two fabrics for the binding. They are from the same line though, so they coordinate well.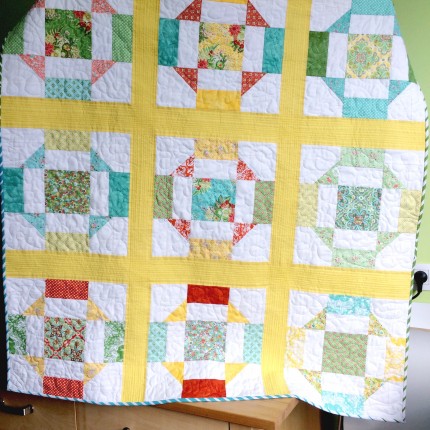 This quilt is beautiful. I love the quilting, the blocks came together really easy, the sashing was a great choice, and I just think it's a great pattern. Definitely head over to Craftsy (I admit this is my favorite place to buy patterns since they hold your patterns for you in case you end up deleting them or forgetting where one was saved) and make a quick purchase. And I used one charm pack so this is also an inexpensive quilt to create as well. I used some of the charms and added to the backing.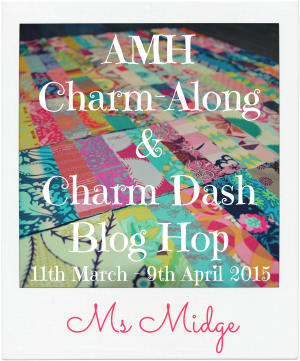 Friday 13th March – Sarah Goer – Things I Make
Monday 16th March – Linden Vine – Vinelines Quilting
Wednesday 18th March – Crystal McGann – Raspberry Spool
Friday 20th March – Anita LaHay – Day Dreams Of Quilts 
Monday 23rd March – Progress Report – Ms Midge
Wednesday 25th March – Tsoniki Crazy Bull –  Me Being Crafty – you are here!
Friday 27th March – Tisha Nagel  –  Quilt Therapy
Monday 30th March – Progress Report – Ms Midge 
Wednesday 1st April – Kathy Gordon –  Kwilty Pleasures
Friday 3rd April – Angie Wilson –  Gnome Angel 
Monday 6th April –  Roslyn Russell – Sew Delicious
Wednesday 8th April – Abby Rudakov – Things For Boys
Thursday 9th April – Final Post and Linky open  – Ms Midge