I love when a small business is creative in their sales. Rachael at Imagine Gnats is running a great sale that is over the entire holiday weekend and for each of the different sale days – you can't miss this!
50% off printed and digital patterns – like the Meridian reversible cardigan for women
30% off chambray and denim fabrics
and 20% off everything else! That's more fabric and Flatter by Soak!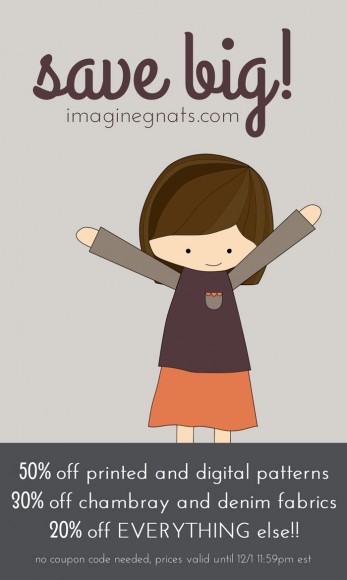 Take advantage of her Thanksgiving, Black Friday, Small Business Saturday, and Cyber Monday sale and shop now! No coupon code is needed and the prices are only valid until December 1, 2014, at 11:59PM Eastern.
(Disclosure: The links above may be affiliate links, this means I may profit when you take action on my recommendations!)