The original recipe came from the Food Network, but I changed the ingredients. I also converted to other measurements for some of the ingredients and the temp to Celsius.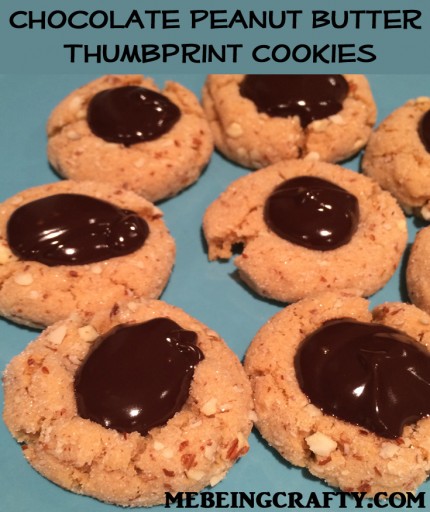 I changed the recipe because I couldn't find almond butter at the grocery store. I substituted peanut butter and still used actual almonds.
Ingredients
Cookies
1 1/2 cups flour
1 tsp baking powder
1/2 tsp salt
115 grams butter, room temperature OR 1 stick
1/2 cup smooth peanut butter
1/2 cup packed brown sugar
1/3 cup plus 3 tbsp white sugar
2 small OR 1 large egg
2 tsp vanilla
1/3 cup chopped almonds
Ganache
5 ounces of chocolate – I used Tablette d'Or Chocolate Noir Patissier – but I think any dark chocolate will work
recipe calls for heavy cream, I used creme fluide – finding a substitute for what I use in the US is only a minor inconvenience, the store usually has something I can use
Microwave and stir frequently so it does not burn
Preheat oven to 190C/375F
I made the ganache while the cookie batter was being prepared so it would be cooled off when the cookies were ready. It was the perfect amount of time.
Mix flour, baking powder, and salt; set aside. Combine the butter and peanut butter, add brown and white sugar, add egg (or eggs) and vanilla to the mixture. Slowly add the dry ingredients until the cookie dough is mixed completely.
Use two small bowls for the 3 tbsp of white sugar and the chopped almonds. Use a scoop to get a small amount of cookie dough out and roll into a ball. Roll the ball in the sugar first, and the almonds second. The almonds will not entirely coat the cookie, but many will stick.
Cook for 12-13 minutes and take out of oven. Once the cookies are a little cooled, press your thumb in the center to form an indentation. Select a large star tip and fill a pastry bag with half of the ganache. The ganache needs to be cool enough to put onto the cookies, if it is too warm it will spread further. You do not have to use a star tip, using a round is also fine.
You also may be interested in: my Pinterest Challenge – Chicken Taquitos and Sugar Skulls and Chocolate Pumpkins
P.S. These are similar to the peanut butter cookies with a Hershey kiss on the top of them, but if you use a better chocolate and make a ganache, these cookies will turn out to be amazing!