We finally used the skull and pumpkin ice cube trays yesterday! The kids didn't have school and I have a cold so I figured we can hang out for half the day and the other half we can make a few things.
For the sugar skulls and pumpkins, I mixed the sugar and water according to this recipe. I also added a few drops of gel food coloring so we had orange pumpkins and purple skulls. I left the kids in charge of the skulls – which is why they got to sweep, I'm not nearly as messy!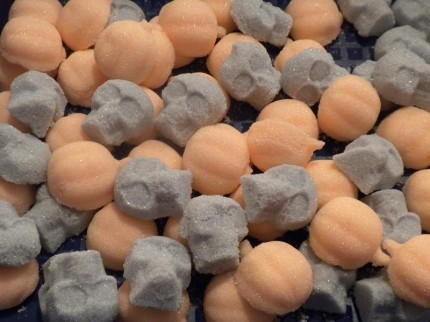 After the sugar pieces were done, I melted chocolate wafers. This page shows making skull pops with almond bark being used – that's probably a better choice then the Wilton's wafers. The wafers just aren't pourable and it's so thick once melted. This time I looked up how to thin it but made the mistake of reading too quickly and added a little corn syrup. That just made the clump up together, which was okay because I rolled some into a ball and stuck the ball into the mold. I love the color choices of Wilton's, but realize I can just use almond bark and add food coloring and it may be easier to use.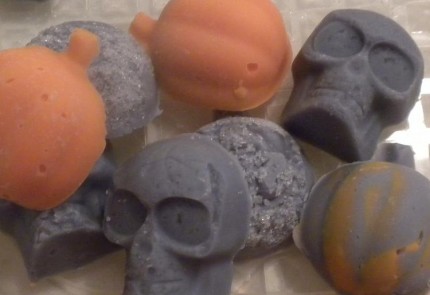 I thought that putting some sugar into the mold before the pumpkins would add a sparkle, but it didn't work out that way. I was thinking of glitter I suppose, which with food is different. I love making candies and decorating and next up is something from Cake Pops!