A whole week already! What a sad state my sewing room looks like. Not much has changed actually. I left last Thursday for a conference and didn't get home until late Sunday night, which really was early Monday morning because it was 1AM. Monday was spent cleaning up and getting ready for Halloween, and vegging – because I was just so tired from the amazing three days I had in Portland, OR, attending the first NIKE N7 Sport Summit. It was a fantastic experience and I am so excited to share what I learned! I'll do a post here soon, I need to edit my pictures!
And so all that I managed to finish were my kids Halloween costumes.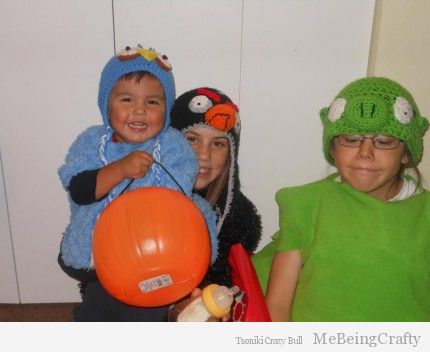 But I can't take credit for the hats! I bought them on etsy. I LOVE the blue one, it fits JW perfectly. I have to admit a slight disappointment with the black bird and green pig hats though. They are WAY bigger then my kids heads, bigger then I think they should be anyway, and the yarn that the green one is made of stretches very easily, so it's totally stretched out already. Despite my slight disappointment, the kids loved them and wore them from the day they arrived and still do. I'm going to throw the pig in the wash and see if the agitation makes the yarn shrink.
Sure the sewing was super easy for the costumes, but I'm glad I got to work on a little something! I'm back now and am going to continue on my postage stamp project this weekend.