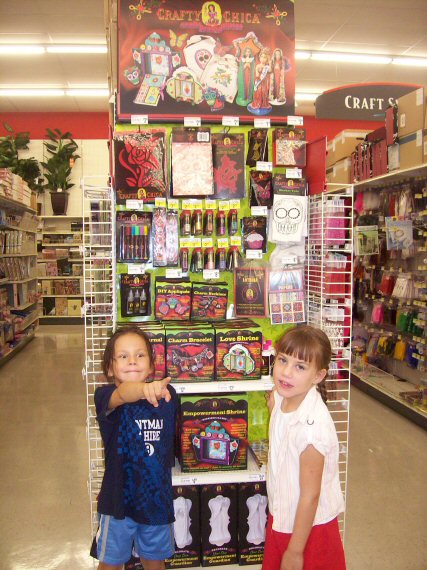 Look it's Halloween on the other side of the store!
Lots of posting about the 7 year olds birthday! Somewhere in our packed, full, totally busy, very awesome day we stopped at Michael's. I called last week to see if they had the new Crafty Chica stuff and when they finally did I wanted to jump in the car and check it out! I managed to wait until we were heading that way though. I got the kids to pose at the display – Alice was asking me something and Jake got distracted by a huge display (seriously, halloween now? Not cool!).
We walked away with glitter – such awesome colors! – and a couple of kits. Alice got one and so did I – she got the charm bracelet and I got the empowerment shrine, both are 'workshops in a box' which is so awesome! I love kits. I have a lot of craft supplies and since I'm not organized at the moment I love that I can open the box and get to work.
I know exactly what my shrine is going to look like. This weekend has been full of reflection and thinking and once I get the shrine done, I'm going to put it up in the living room. We are going to slowly get back into schooling this week and Alice's project is going to be one of her first assignments. She's excited and had a hard time sleeping last night after I told her we'd work on it today.