I have mentioned the Pink Chalk Fabrics Solids Club before, and sad to say they discontinued the club (they do still have bundles available if you are interested!). However, they started up a new club which I joined as soon as it became available! The new club is called Charming Solids and I love it. This is another monthly club that consists of two charm packs and six extra wide fat eighths – in this case, an extra wide fat eighth is 10 x 22 inches.
When I went to grab the links I discovered they are sold out of memberships, sorry!
Here is February: Good Fortune by Kate Spain and the coordinating solids are perfect!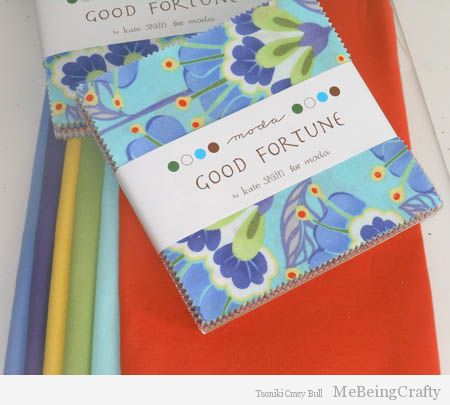 I have no idea what I am going to make with these fabrics. Maybe a quick baby blanket? I have a few quilt patterns that use charm packs, and you can never go wrong with a simple block quilt. I do have a few small projects I want to make for friends or family such as mug rugs and coasters. I am drawn to mini quilts and recently, finally, tried doing paper pieced hexagons so these charms will be put to good use I know.
I found a Strip Tease Quilt over at Always Expect Moore that she just posted over the weekend. Great idea! I love the idea to challenge yourself to use the fabric each month. I know I would end up with a huge stash of charms and extra wide fat eighths. I know this because I just went through my fabric over the weekend while I organized things and yep, found a lot of stuff.
What are your ideas for this fabric? Oh what about a reusable grocery bag! I can always use another tote.