This hurricane is heading straight for us.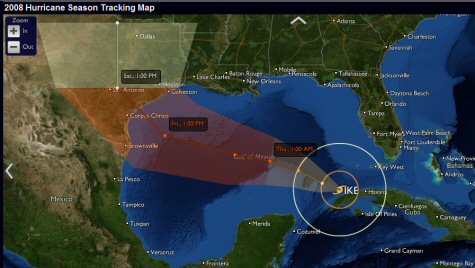 I'm not exactly sure what we should be doing. We got a list today saying to have batteries, a first aid kid and food, among other things, but other then that what – pack? We went to the hardware store to find out how to cover our windows in case one gets broken. I'm worried one or more will break and the water that comes inside will ruin our things. Plus if a window breaks, that just makes it easier for people to come in and take things.
I am annoyed that *we* have to be the ones to cover the windows, we don't own this house yet we have to pay for the supplies! Sure we have our things inside, but I still don't agree. If the window breaks we won't be the ones to pay for it so you would think the management company would want to take precautions.
We do have water and lots of food in the pantry, I have a huge cooler and will go get ice in case electricity goes out. I need to move a few more things around from the garage to inside the house and also figure what to take with us if we leave. I'm thinking laptop, jewelry, pictures and clothes. Everything else we have can be replaced if it comes down to it.
Really it comes down to just waiting. Wait and see when we should leave, I know we should be ready, it's just a matter of when and were we will go.