We moved many times while stationed in the US. It was always easy to move because we did pretty much door-to-door moves, meaning we went from one house to another and met our stuff there. It helped that we did DITY (do it yourself) (now called PPM – personally procured moves) moves. We were in control of the schedule of when our stuff would leave and when it would show up. Moving overseas is a lot different. We had about a month between when we left California and when we were to fly overseas. We had to pack for the month on the road, but also for the time we would be living in a hotel once we got here.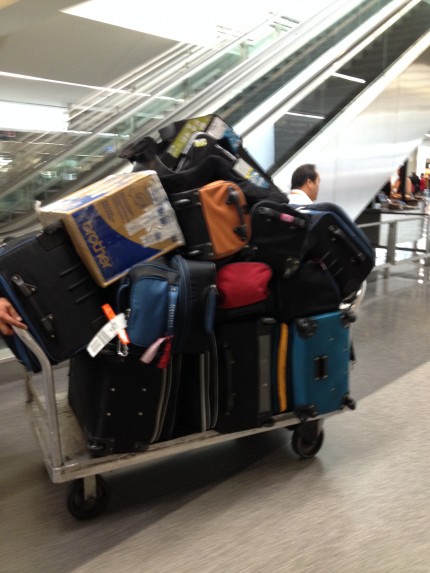 Our luggage, as seen getting a ride through the San Francisco airport
1. The military offers something called an Unaccompanied Baggage shipment. That is 1000 pounds of your stuff that is said to arrive before your HHG (household goods) arrives. There is lot of information out there, advice, about moving overseas and a lot of what I read indicated that the UB shipment didn't show up any earlier to make a difference. In some cases it showed up at the same time as the regular shipment, and it could even show up later! What is the point of sending 1000 pounds of your stuff early if it doesn't even get to you early? Even worse, what is the point of sending it if you were going to be living in a hotel for an extended amount of time? Look online to find out what others experienced for the specific place you are going. We did not do the UB shipment, and we ended up in a hotel for 47 days. Our stuff arrived before the apartment we rented was ready to live in.
1a. Add to that, overseas posts have rental furniture you can borrow. Sure your own bed would be nice, but no bed at all would be worse! We were loaned wardrobes (homes outside of the US are very different compared to in the US. Our apartment does have a couple of closets, but not in any of the bedrooms.), a dining room table and chairs, a couch, and nightstands.
2. Make a list of clothing, and then cross items off of the list. I was not sure exactly what the weather was like as I was told European weather can change from morning to afternoon (um, just like anywhere else? LOL), so my first list was basically anything I loved to wear. Since that wouldn't work I ended up with basics (four jeans, eight tops, three dresses, two cardigans) that I could layer and wouldn't look like I was wearing the same thing ever day (something no one but me would notice anyway!). My list for the kids was the same, except for the youngest as he usually gets messy quicker than the older kids.
2a. Not every hotel will have an on-site laundromat! We found one a few blocks away from our hotel. Keep this in mind as you pack underthings!
3. Look up what the airline will let you bring. Often people think that all airlines will let all military members fly with an unlimited amount of luggage. This just isn't true. We flew three separate airlines to get to out final city in France and had three sets of rules to follow. The first let us fly with an unlimited number of bags, as long as one bag didn't weigh over 100 pounds. The next airline let us fly with four per person, as long as they weren't over 100 pounds. The final airline let us have three per person, with a 70 pound limit. The last one was the only time we ran into trouble as we really stuffed our luggage. We were fine, we just had to redistribute the weight in the bags. We were lucky because the last airline had a separate check in area for those flying with children (because people often fly with car seats, strollers, etc.) so we didn't hold up the regular line.
4. Remember that there will be stores wherever you are going. Sure the military can send you to out of the way places, but in general you will have access to a store with anything that you need. We ended up packing a lot more liquids than we planned on packing, because the moving company would not pack everything to ship it. We used a lot of zip lock bags in case anything spilled. And even though there are stores here, it was nice to not throw away something we already spent money on.
We ended up driving around with (and then flying with) 13 pieces of luggage, and my sewing machine, which was in its original box. We packed towels, blankets, the extra shampoo, soap, etc., in luggage that we didn't access every time we stopped somewhere. When we did stop we only took in two or three pieces of luggage, just having enough outfits for however many days we were at each place. We visited family in three states over four weeks. Luggage is an investment that I highly recommend! A good set will last you years, well years if you get a nice guy/gal handing it if you are a frequent flyer.