I already made an appointment to get the kids pictures taken – JW hasn't had a professional photograph yet, and at (almost) eight months Alice and Jake both already had two sets! That's what happens when you are born in August, you get the holiday pics in.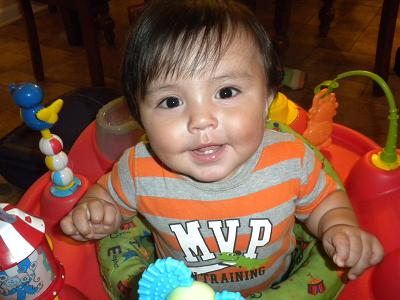 JCPenney has an offer from the beginning of September through the month of October for deployed service members. You will get:
*free sitting fees
*one free portrait sheet
*one free portrait sheet sent to the military member's APO address!
I also made contact with a local photographer through Operation Love ReUnited. I knew this existed, but didn't think about it until last week. It would have been nice to have pre-deployed photos as well as during and/or after. The website says to bring uniform items, and I'm not sure what (if anything!) we have at the house! Chris took everything with him, but maybe there is a hat in storage. I wonder if it has the right rank on it?
She already contacted me and we are working out the details to do a photo shoot while he is gone, then she will also be there for homecoming. What a fantastic service, check to see if there is a photographer in your area.