We've been in Texas since the fourth of July, and I have yet to feel comfortable cooking in my own house! It has a lot to do with the space, the kitchen is small – it's not much larger then the one my Mom had at her two bedroom condo. It feels like you run into anyone else in there with you and the dishwasher has to be closed before you can open a cupboard. When you get to have a large kitchen, moving to a smaller one probably takes a while to get used to cooking in.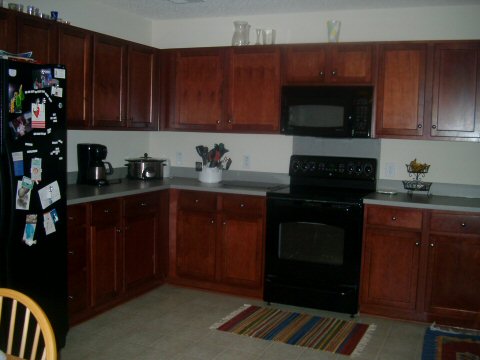 my old kitchen – to the right is the sink/dishwasher
Chris eats at work a lot of the time, every day when he is there for sure and usually all three meals of the day. That's also been hard for me because he eats *alot* of food and since he doesn't eat at home, we are left with a lot of leftovers! I'm not used to that at all. I'd rather just have things we can snack on and grab something quick and easy for dinner. We all eat fairly healthy and rarely have junk food around – it's just a matter of figuring out what to have. Last night we had peanut butter and jelly sandwiches along with veggies we ate either plain or with ranch. It was filling and good and I didn't slave away at the stove for an hour.
Tiffany at Nature Moms just put out a Raw Kids Recipes book that includes recipes for No Cook Pizza, Fruit Leathers, Coconut Macaroon Cookies, Carrot-Jicama Nori Rolls, Key Lime Candy Bars, Creamy Celery Soup and Chickpea Crunchies. No cook pizza? Sold! And the key lime candy bars sound yummy! I love key lime.
I'm going to grab her recipe book and try out a few recipes. Not cooking is very appealing to me since right now Chris is gone for work, since it's hot outside, since I don't like the kitchen. Many reasons I know. 🙂 I also think the kids could help with a lot of preparing a raw recipe – they often help with cooking anyway and this seems like it would be easier for them. Check out her book and let me know what your favorite recipe is.