The kids started back to school! Okay, I'm late on saying that. They've been in school for almost a month now. Alice is in fifth grade (FIFTH!) and Jake is in third. My babies are growing up so fast. I've been told that Alice is a pre-teen. I beg to differ, but I suppose it's true. This year they are in the same school so that's been nice for me.
Alice has been taking her lunches to school most of the time and I knew it was time to invest in something other then wrapping sandwiches and the rest of her food in plastic bags and paper towels. I bought some reusable snack bags for lunches from my friend Angela over on etsy at Sea Sow USA. I love them! They are the perfect size for snacks or for a pb&j. She has a lot of designs and recently added more. She also has a facebook page that you should join! When I bought my bags, I snagged a free shipping code from the fb page.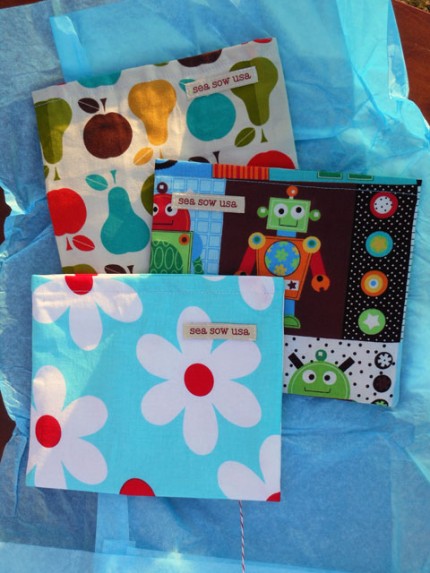 My snack bag, then Jake's robots, and Alice's flowers.