Once the kids and I moved in with Mom, she lost her sewing area. And I lost my craft room. So what did we do to make the best of it – set up shop in the dining room!
It's been … well not a struggle, but we have had to figure out what works and what doesn't in terms of storage. She has a hall closet that we use for fabric, supplies, etc., and we also have the bottom part of the kids closet as storage for fabric. She doesn't do many other crafts such as making cards, scrapbooking, etc., so it's mainly sewing in this house. I've managed to crochet a few things and we both do beadwork.
So we use the hall closet for storage – that stays fairly organized with bins and buckets. The space in the dining room surrounding the kitchen table though, that has been a lot harder for us to get under control. We've tried stacking fabric on a chair (yeah…that doesn't work so well!), we've tried baskets, and then those end up stacked on top of each other, we tried putting things away and only getting it out when it was needed, that really doesn't work well at all. Mom had the idea that she wanted a bookcase with cubbies in it for quite a while and we finally got one last week.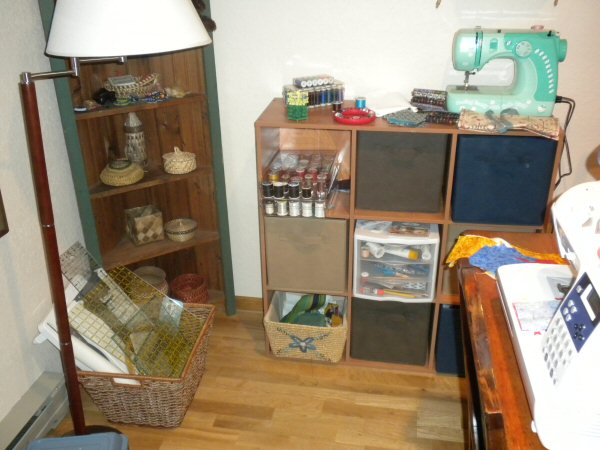 She wanted a mix of baskets and the fabric bins you can buy that fit the spaces, and ended up with six fabric bins because we had a hard time finding baskets that would fit. The one we used at the bottom sticks out a little, which isn't too big of a deal since this sits in a corner and people don't run into it. Now all we have is the basket to the left that holds the sewing machine quilt table attachment and the rulers. Everything else we are using and working on is in the bins!
So yay we are organized!
And the real benefit of being this organized – the little pile of fabric next to the sewing machine and red circle bobbin holder – Mom whipped out five matching needle holders and pin cushions.
As a sidenote, the green sewing machine up there is the Janome Hello Kitty. Alice got it for Christmas! She (and I) was SO excited! We got it out on Christmas day and set it up – only to have the thread tangle up if you even look at the machine funny. It's a huge disappointment because she really enjoys sewing and I don't want it to be a chore for her. It's also annoying for us because we (Mom or I) have to quit what we are doing in order to try to fix it. I asked a friend who I know has the same machine only to be told that she had the same problem. So I am going to send it back and invest in a quality machine for Alice. Sure it won't have Hello Kitty on it, and it won't be pretty and green, but it'll be a machine that works!