Thank you all for the compliments on the house. It's no secret that real estate in the south is cheaper then real estate in the Northwest (where we were) so this house is big.
Oh and Lisa – more details: 4 bedrooms, a loft, 2 1/2 bath, family room, living room, dining room, laundry room, eat in kitchen, 2 car attached garage. I think that's it? No fence outside, the BEST neighbors anyone could ask for, and a master walk in closet you could live in. Trust me, I almost put my craft stuff in there because it is so great.
The yard may not be that big, but we have a super awesome screened in porch! I love this because it has a ceiling fan and we put our swing in there. Perfect for the wicked hot humid days the south has all summer long.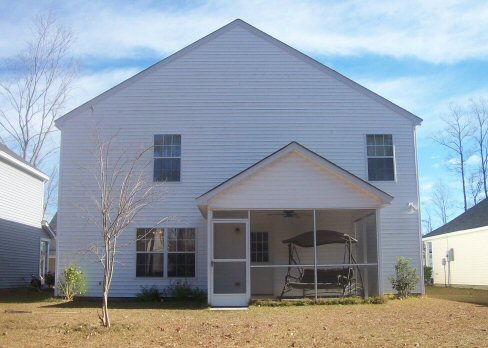 We are in a new development so our yards are not huge – though they are perfect for kids to play in with the neighbor girls, bbq's with friends and setting up a pool for the hot summer. But not too hot – then you just want to stay inside with the central air.
But sorry Chele – no furniture will stay – though all the appliances and even the washer and dryer will! You still interested? 😉
This would be a perfect house for 40 acres Donna! You are so right. My Dad has five acres and a large house and it's awesome. I can't wait to stay with him and I know my kids can't wait too – nevermind that he has horses for them to ride!
Our house is great to live in. We painted inside back in October and I've been replacing our curtains with blinds over the past month or so. It is surprising how little things can really change how your home looks – okay, it isn't surprising and anyone point me back to this post when I say we are moving into a new place. I am great at unpacking and setting up a house in just a few weeks. And I can get all of the shelves and my candle holders on the wall a few weeks after that. But paint and blinds – that always takes a lot longer. Next time I will set up the house how I want it within the first few months.
It's important to really enjoy your space. I did that after we painted – put up a few more pictures and such. But that's just been the past couple of months, really not enough time at all.
Update: Click on the "Rent My House" link in the right sidebar – it goes straight to the listing!