Last week my Mom organized a quilt class to be held at her office. She invited several people but a few had colds and so only a few of us ended up participating. At the class she taught us how to make star pillows using the strip piece technique, and after I finally caught on to how to pin the strips my pieces actually ended up matching. So far I've made three – one set and then one single pillow.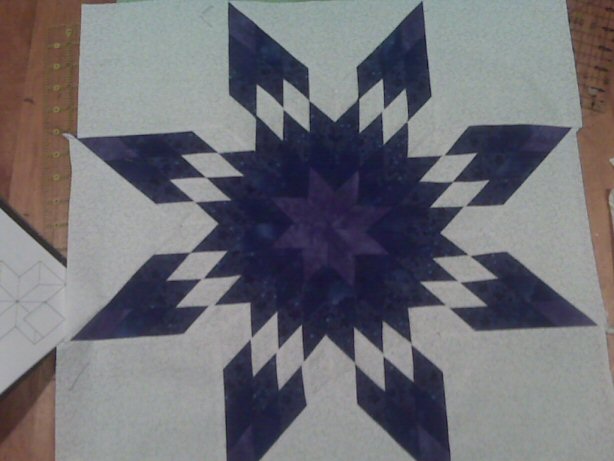 This is the first star that I made – I made it at home a couple of days before the class so I would know what to do. I ended up taking it out a lot (I can't even remember how many times) and it is a little bit bumpy or something in the middle, where the points meet. However, this is the first one I made of this color, then I made the red below, then another of this purple one – and the second purple one, wow – it just about all matched up AND lays flat in the middle. I'm amazed I was able to do that because really, the pinning really threw me off. I'm not sure why it took as long to figure out or to catch on to either. This is the first time I've ever strip pieced though so I'm very happy.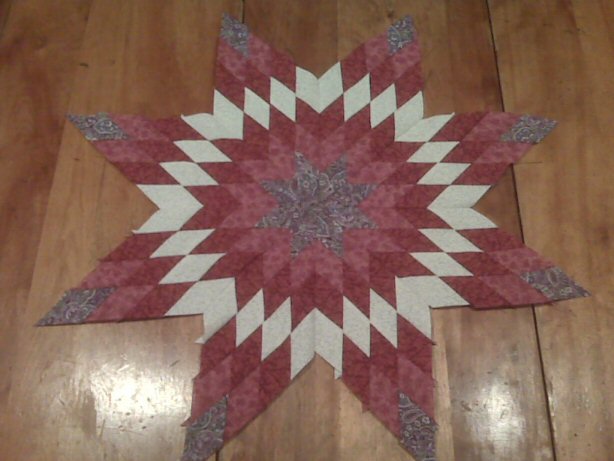 Here's the red (and purple I suppose) star – this one I don't think I took out at all and it ended up with nearly every point meeting up and the middle lying flat. I have yet to add the white, but am going to get that done this week. During the quilt class Mom taught, one of my friends used this same material and also copied my pattern – so I figure I'll finish this and give it to her so she can have a set. Mom already said I'm going to be the star quilt maker in the family since my stuff has matched up so easily and the center lies flat. 🙂
The book that Mom has that she uses is the Radiant Star Quilt by Eleanor Burns. We used the four color and just adjusted the size for a 18″ pillow vs a blanket.