I whipped that baby blanket up in no time flat right – only to be stuck on the binding! The binding is always the hardest for me. I think it's partly because I make it hard. Once I get started I know it will be easy to finish.
So far here is what I have done: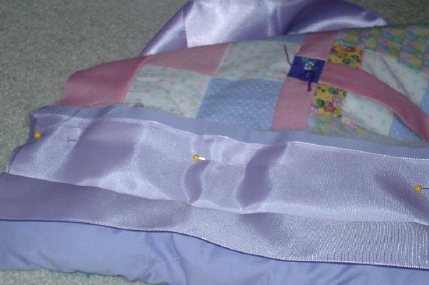 See those three pins? I think I have a total of seven pins in there. I know! It's barely inches on that thing. *sigh* I know I need to just sit and get it done, but I just feel stuck. I almost feel like putting it away and coming back to it after I do a few other things. But my girlfriends baby is due in two months (from today!) so I know I can't put it away for too long.
Maybe I'll just put it away until the end of August. Then I can finish it in a couple of days and still get it in the mail to her in time. Hhmmm, there's an idea….