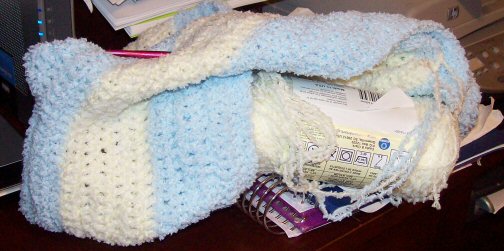 I
'm busy working on this baby blanket for my nephew – so far I have 16 1/2 rows completed and I need at least two times that to go, maybe three times. I haven't decided yet. I never timed how long it takes me to crochet, I just work on it a little at a time. Well today I timed it – and wow.
It takes me about 10 minutes per row for this blanket, I'm not sure how many stitches across but it is a double crochet. So 16 1/2 rows times 10 minutes…. 165 minutes = 2 3/4 hours. What! Seriously? I am amazed. I honestly don't feel like it took that long but maybe that's because I'm only doing a row or two at a time and then walking away.
I really want to make an afghan for myself. I'm thinking a couch lounge blanket size. I haven't started because I don't have that much yarn and I admit even though I am a newbie crochet'er, I have yarn standards. I don't want to buy just whatever yarn at the local craft store but the problem is also that I just don't know what kind of yarn to buy. I see people making these afghans with scrap or leftover yarn they have – my leftover yard consists of some 100% cotton, a couple of red heard baby and another cotton.
Do you make an afghan with cotton?
Maybe I'll stick to baby blankets and scarves for the time being. Oh and I made those fingerless gloves last year – I ended up giving them to my step dad who is a golfer and he loves them! He actually wants another pair but while these ones ended about the middle of the palm of your hand, he wants some that go all the way to his knuckles. Sounds like a quick and easy gift for him!
If only my Dad were so easy to buy/make for!