Pun Completely Intended!!
Look at my fun, super cool, awesome, so shiny and pretty new sewing machine!!!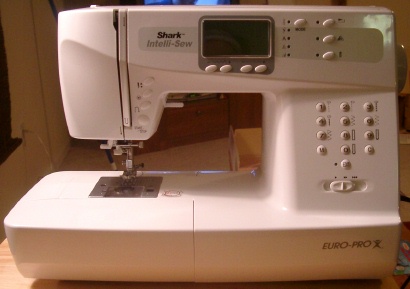 Way back in October my sewing machine died. I only found one repair shop in the area though I admit I only looked in the yellow pages. And it was farther into town then I typically go, so I've never made it there.
But Chris needed his uniforms fixed and I always sew the patches on. This saves a little bit of money but more importantly, I am MUCH faster then the tailor. Like I can get a uniform done in maybe a half hour, but the tailor always quotes at 10 days to 2 weeks. So we bought the Euro Pro Shark Intelli Sew (from Target! $50 off the regular price!) because it's been so long, because he needed the uniforms, because I just needed a new one! The other night I got the machine out, read a few pages about the basics and within probably 10-15 minutes I was sewing.
I. Love. This. Machine. Sure I have some of that "this is my new toy and wow it's so pretty and shiny" going on. And at first I was just floored at how cool it looked LOL and then all the hidden stuff. Case in point, the top: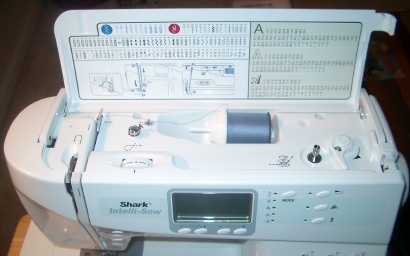 Everything is hidden away! So the top of the machine is nice and smooth. The bobbin winder works well and the display has a picture of a bobbin being wound when it is working. LOL There is also a list of every stitch available and a graphic to show how to thread the machine.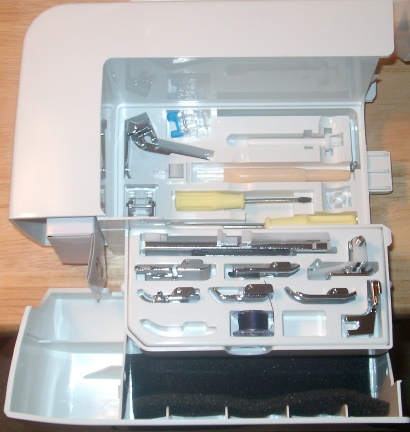 There are like a million fee that this came with. Okay, not a million, maybe 12? 17? I don't remember. I don't even know what more then half of them are for! I only ever used the regular all-purpose foot (or maybe the walking one?) on my old machine. This compartment also has the tools that come with the machine – screwdriver, little brush, a few extra bobbins, etc.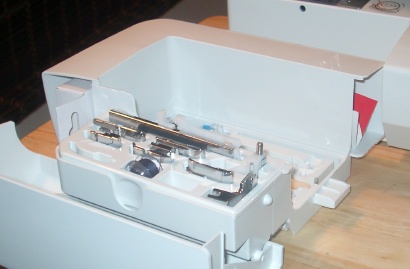 Now this is cool. See that red? That's a package of needles that I bought and they are in the secret compartment! Or at least I think it is a secret. LOL And over to the left, see that box? That is … I think it's another foot of some kind. Anyway, it came stashed in that other compartment! How cool is that! And last but not least, see that indent that looks like a thumb? You can lift up the top compartment and there is another stash of stuff under that! It had another bobbin (three or four came with it) plus the thing that holds the thread (wow, don't you love my technical wording?) in place on the top of the machine.
The led display is very cool. The light near the needle is very bright and florscent and reflective. Also the foot that it came with (all purpose? walking? Sheesh, I really should learn the terms!) isn't exactly like the foot on my old machine so it took me a bit to get used to. I just mean – you know when you are sewing, and you can see down the foot to the needle, and that helps you keep everything lined up? This one has a that – but also has a small what looks like a ball of metal – it's attached and supposed to be there, but I don't know what else to compare it to – and that ball is what the needle is lined up with.
But the sewing – wow. Fast and easy. Maybe my old machine was just slowly breaking but this one was so great. And it has the fun feature of having a start/stop button! I used that for half of it and then the foot pedal for the other half of the sewing. You can set the speed so that was nice.
Ah, so cool! I really like this machine and can't wait to figure out when I will start my block a day so I can use it more often. 🙂