I've been thinking about tattoos a lot lately. I think this has happened before but I can't pinpoint when. It started a couple of months ago, and I can't draw at all so all of my ideas are in my head. I think of the snake my Uncle has, but doesn't talk about, and the partial initials my Dad has (he did it himself, in a class in school), and the elaborate sleeves a friend of ours has. I watch shows like Miami Ink and LA Ink and think of driving there to get a tattoo done by one of them.
I have a short stack of journals/notebooks (all designated to certain topics of course) and on top are a few blank moleskines – I need to just get a pencil and start sketching. Of course it won't be perfect, but it's not about perfection. It's about expression and art and the love of whatever you are drawing.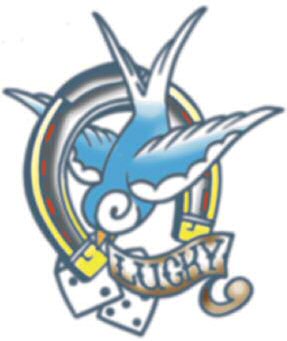 I'm browsing craft blogs and came across an article at The Storque on Etsy about home made tattoos (really reminds me of my Dad's initials on his hand). I have new colored pencils and a moleskine, I just need to do it. At least it will be a start.
I saved the picture after browsing tattoo art online – if it is yours please let me know and I'll link it! I saved it because I like the bird, I've been attracted to sparrows lately.