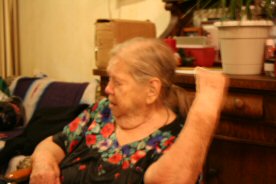 My Grandma is sick. She's been on dialysis for the past four plus years and usually does pretty good. She has asthma that doesn't act up too often and does a great job with her diet to control her diabetes and to do well on dialysis. Over the weekend she started getting sick, or something was going on. She went to dialysis Monday morning and had a fast heart rate and was having a hard time getting a good breath. The ER dr didn't waste any time and flew her to a larger hospital. I heard from my Mom that morning and then talked to one of my Uncles that evening.
After feeling reassured that she was doing okay I talked to my Mom tonight. She is leaving from where she lives to go see my Grandma and said she'll let me know if I need to come home – but right now it doesn't look good. Grandma is very frail and tired and though they thought she had fluid on her lungs, it may be something else.
My Grandma is 85 years old and she's a tough lady. My Grandpa has been gone for 20 years and of course everyone dies, but for some reason I never really, really thought about my Grandma doing so. I was lucky to live next door to her for 20 years, only until I went to college did I move. I talk to her weekly and sometimes more then that. When I talked to her yesterday she sounded tired but that's normal – you can't really rest while in a hospital, plus she doesn't feel good, and lots of family is up there to see her.
If you pray, please do so for her. This is a woman who had six children, one dying when he was a baby, who raised five kids who had thirteen kids who had thirty-something kids – and even those have had I think three. Please pray for her to be comfortable, for her to be able to get rest, for her to get better and if this is her time, for her to go peacefully. I know she's had a great life and though I'm not ready to talk about her in the past tense, my family is also not one to wish for her to remain on machines or anything like that.