I taught Alice how to hand sew a couple of years ago. Every once in a while she will grab a couple of pieces of fabric, a needle and thread and sew it together. She still has big stitches sometimes, followed by little stitches. She is learning and figuring her way around things. She wanted to find something she could do on her own, or mostly on her own, on the sewing machine so last month I found a quick project for her to do. We worked on it together and were finished in an hour!
She picked the fabric from my stash and we cut and started sewing in a few minutes. I showed her how to hold the fabric to guide it through the machine, showed her how to line the fabric up (we didn't pin anything – note to self, she's only 7, pin it!) and set the speed setting close to the slowest one. She loves her new handmade babydoll sling!
I know I found the pattern on a crafty blog and it is lost forever in my bookmarks or stumble page or something. If you recognize this, please let me know so I can link it!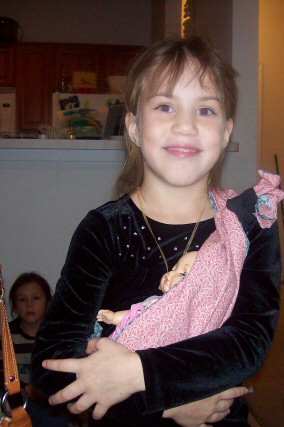 Alice & baby in a new sling
A short time later and she was done! I didn't have any rings like the pattern calls for, so she cleverly found an elastic hair band and wrapped the ends together. Her baby didn't complain and stayed tucked in just fine.