Sometimes the nay vee is full of madness. Yes you can stay here and get a different job – oh wait, no you can't. Sure you have orders to go to that new place – but not on paper so you can't figure your move yet. Yeah we are going to pay for that trip – after you pay for it first and get reimbursed.
I feel kind of cheated. I feel like we already spent most of last year apart – now we have to spend even more time apart. It isn't fair. Ha, life in the nay vee isn't meant to be fair! I spend my time talking with friends that are new wives and new to the military – talking about how it isn't fair and how it works and how I'm sorry they just got married and all these things are so different ~ different from expectations or from what they were told. After being married for eight years and Chris being in for ten, I have my fair share of knowledge to share.
I know it's not supposed to be fair, but sometimes life gets overwhelming.
We do know when we are moving and plan on staying with family so we don't have to worry about finding a place to live right away. A part of me does feel good just knowing. I am such a planner – well now I can plan! I can plan the trip and organize the house and purge and donate.
Remind me that I said I feel good just knowing in about a month when I'm freaking out from having to move so soon.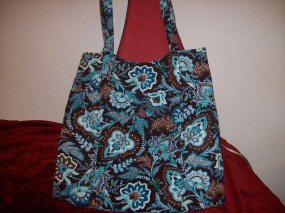 New Vera Bradley purse – a steal at $15 after it was on sale then on clearance!