I used to think I had a lot of fabric.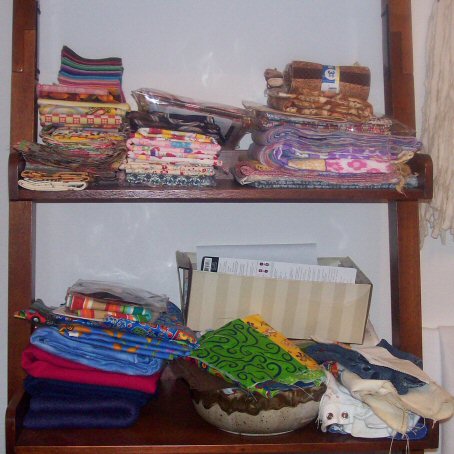 After folding the many fat quarters I have and organizing my quilting fabric, I have two shelves worth. I do have more fabric in one large rubbermaid container in the closet, but this is the stuff that's been out and about in the room. I spent a few hours a few days ago cleaning up and reorganizing. I know I needed it when I was stamping the perpetual calendar and not finding tools I know I had! It was frustrating trying to work when it took me just as long to find what I needed to use!
The next step is to put the various projects into large zip lock bags. I don't have too many for now so I'm thinking zip lock bags and then the bags into a larger bin or container. I have lots of empty containers so that's ready to go.
Has the organizing bug hit you yet this year? I also went through all the kids clothes and threw away some that were in horrible shape and got a bag full for giveaway!