I am huge.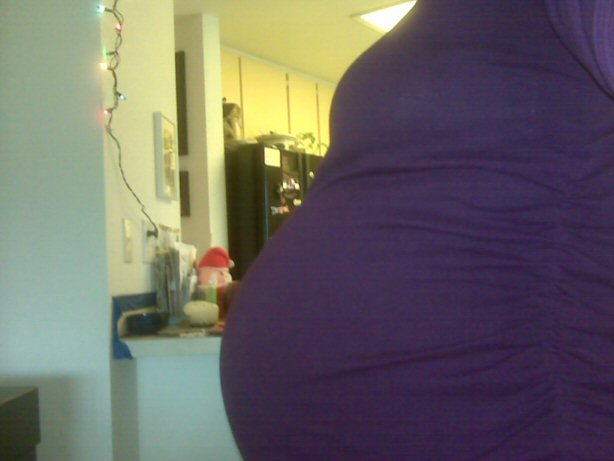 See!
But oddly enough, I've technically only gained two pounds. That's because of losing so much weight at the beginning and throughout. But he still grew and is doing great. He constantly moves and I've been having Braxton Hicks contractions forever now. A couple of weeks ago, for one day, they were every half hour, but I knew they were nothing. At my dr appointment last week, the dr estimated him to be seven to eight pounds – and said if I go to my due date, I'm looking at a nine pound baby. The kids were with me and I said oh Jake was almost nine pounds, and the dr said "well then!" So that's a good thing?
I woke up today kind of feeling sick and wondering if that means labor is coming – but really it's probably the cheese bread and pizza I had for dinner. Either way, today I'm going to pack a bag for the hospital, just to be prepared.
I had a moment the other day where I felt the NEED to clean up this pile of papers next to my laptop. Nesting!? I actually look forward to that. 🙂 Mom suggested nesting and cleaning my room and closet would be a great nesting thing – too bad you don't really control what it is you clean or organize. I remember with Jake I took all the plates, dishes, pantry items, etc., out of the cupboards and cleaned everything, then rearranged when I put them back.
I am interested in him hanging out until his due date though! I have a thing with numbers and his due date works. Hahaha