I have been SO crafty over the past few months! I've made baby blocks for a friends new baby, crocheted a baby blanket, did the beadwork projects for my class, sewed pillows, made ribbon pillows with my Mom, helped Mom make a table topper for my niece as a wedding gift, helped make a table runner for my sister in law for Christmas – and the list goes on! Oh and we can't forget the Christmas ornaments I made for a handful of friends, as well as for my brothers and their families.
But for the first craft of the year – I made myself a crochet hook holder. I've been wanting one for quite a while and finally got around to it. We spent the night in Seattle when we dropped Chris off at the airport, and I came home and immediately cut the fabric for it. It took a few hours because I couldn't grasp the idea of the instructions – and of course after I finished the project, the instructions are very easy to follow along with.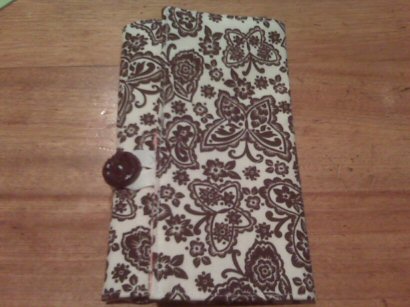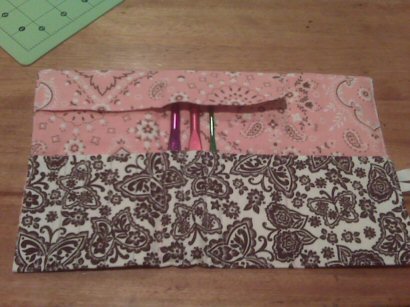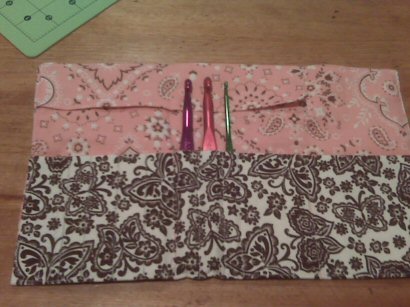 One mistake I made is putting the flap on the left side (as you can see) because in the instructions it says to put the flap in between the inside and outside fabric, on the top right side. Well they meant the top right side after you were finished – not the top right as it was laying on the table. So my flap ended up there. But it still worked just fine!  There are 12 pockets for hooks, as well as a larger pocket on the right side for scissors. The flap makes it so the hooks don't fall out and it closes with a cute button.
The button I got from my Mom's stash and was a quick add. This project is from the Sew Darn Cute book – there are several things in here we are going to be making over the next month or so. My Mom already made a handful of needle books from it, and Alice is going to make headbands for a few of her girlfriends.
So that was the first craft of the new year! Actually, the first after Christmas craft as this was done a few days after Christmas. I also embellished a crochet hook (need to get a picture of that, I thought I had one but guess not!) and worked on baby moccasins that day. Living with my Mom has really opened me up to being able to sew and be even more crafty then I used to be. It helps that I went back to school and the kids are in school. Before we would have full days and while my own schooling keeps me busy, I have lots of free time when everyone in the house is gone so I can get a lot done.