My friend Andrea is hosting this week's Friend Makin' Monday. I'm glad she is because I've wanted to participate for ages now!
What are your holiday traditions?
Halloween
Since I've had kids, I love making their costumes. The first year Alice went as a caterpillar. And by "went" I mean I made her costume and took pictures of her. We lived in an apartment complex and didn't even take her anywhere. A couple of years ago they were a boiled egg and she was a black fairy. Last year it was Fancy Nancy and a mouse.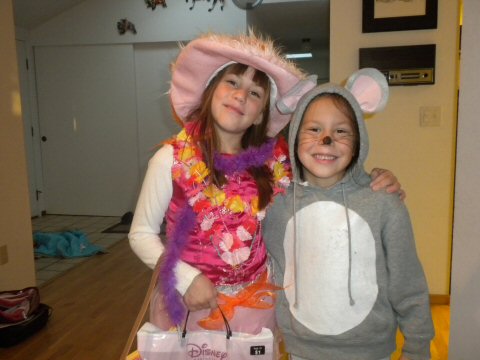 I can't wait for Halloween this year because their costumes are so cute!
I also love seeing other costumes and admit I get disappointed when I see so many people picking the wear the plastic costumes you can buy. I know not everyone feels like they can make a costume, but I wish a little more effort was put into it. I love passing candy out so I can see kids dressed up. I think back to being a kid and while I liked going out trick or treating, once I got a little older I liked seeing the costumes more then anything.
Thanksgiving
I lived in the same town (or one town away) from most of my family growing up, and so we always spent Thanksgiving eating. All day long. We would start out at Grandma's house, but not officially, just having a snack or a few bites. She always ate earlier then we did at our own house. Then we would eat at home. After lounging around, we would go to my Uncle and Aunt's house and either eat again or at least have a snack of some sort.
Since being married I try to invite people over for Thanksgiving. It always made it easier to be away from my family if we had friends over as well. When we lived in SC we had 20+ people! It was awesome. Now that we are closer to my Mom, we spend Thanksgiving with her.
Christmas
Since I grew up in a very rural area, we never went Black Friday shopping. I never even knew something like that existed until several years ago! The day after Thanksgiving in our house was always the day to put up the Christmas tree and decorate. Even after I discovered shopping on that Friday, I still set it to be a decorate the house day. It's always worked out fine because I get up and shop super early, then take a nap, and the decorating gets done in the afternoon.
As a child we usually went to midnight mass and after church we were allowed to open one gift. I loved midnight mass, it helped that we lived literally two houses away from church. It was great going to a packed church, with tons of snow on the ground, and just being able to run up the street minutes before it started and being able to just run home afterward.
I started the tradition of opening two small gifts on Christmas Eve with my kids, and one is always new pajamas. I wonder what it is about Christmas that makes people buy or give new pjs? Why not at Easter or Halloween? Maybe I'll start that as a new tradition!
For the past few years I've made breakfast the night before and had it ready to put in the oven, so it bakes while we open gifts. I love this because of course you are hungry but if you have kids, you know they are anxious to see what Santa brought them and they don't want to wait for you to cook.
Another thing I've bought to my kids from when I was younger was opening the stockings later. As in we do gifts, we have breakfast, we look at what we got, we hang out, etc. – then we open the stockings. They are always fun little things, like candy, lip glosses, lotions, and the like. Last year I put spatulas in my Mom's stocking because she needed new ones.