Yesterday I thought okay maybe the baby is waiting until at least one of his baby blanket are finished! Sure I have lots of receiving blankets, but since we didn't know we were (or would be) pregnant when I was packing up the house, all of our baby/little blankets are packed up and in storage! I've been planning on making a small blanket for him made up of 9 12″ blocks, and Mom made a quick rail fence quilt the other day.
Last night she started quilting hers and I finished one set of three blocks for mine.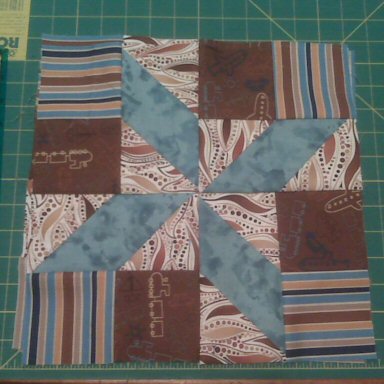 I made three of this block – I found the pattern on the Quilters Cache website, it is called Clay's Choice. It called for three colors and I used four, but I really like how it turned out. And I'm quite proud that I can get the points in the middle to match up!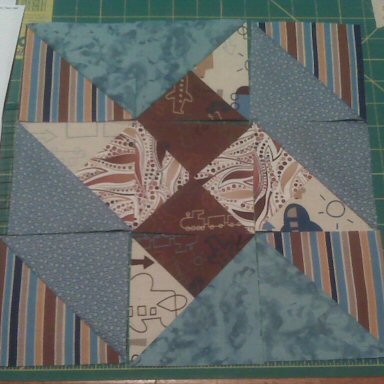 This morning I started this block! It's not even sewn together yet. 🙂 This one is also from the Quilters Cache – it is called Card Trick. But it looks totally different then the Card Trick! That's because I used fat quarters, vs using something more like a half a yard. So we had to fudge and figure what would work with the fabric we had. And I like this! I like the blue marble and blue flower making diamonds and triangles, and I like how the dark brown airplane and paisley prints match up in the square in the middle. So it's more like the Card Trick block was the inspiration vs the actual block. I like that block though so I'll have to remember it for a later time.
I have two more of this one to make and then a third block. I'll need to do sashing and a border, then finish. Luckily for me, Mom is way closer to having hers done so if the baby is waiting for a blanket, it won't be too long. 😉