After all the folding and organizing and putting fabric into boxes and on shelves, I finally was able to sew.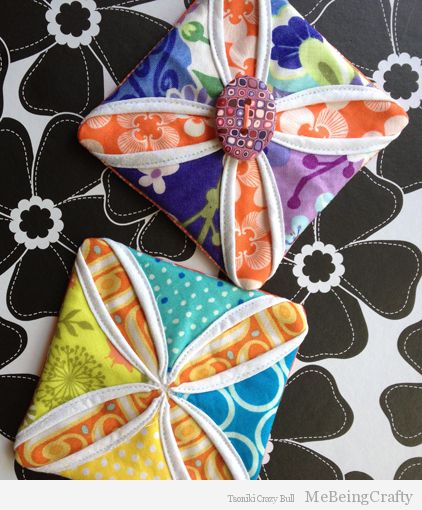 I wanted to make something I could finish, so I made a cathedral window pincushion, using the tutorial linked. The button is a polymer clay button made by Lisa Clarke of the Polka Dot Cottage. I think the button is perfect.
I bought a yellow flower button for the yellow, blue, and orange pincushion. I haven't secured it to the pincushion yet, and both pincushions are still lying flat on a shelf.
Here is another pincushion – a triangle log cabin. I ended up misreading the pattern and cut my strips 1.5 inches rather then 1.25. A quarter of an inch really isn't that much fabric but it does make a difference! If you follow the pattern, your pincushion will be six inches on each side, mine ended up larger at just over 7 inches. Clearly I need to go back to using my 1/4 inch foot if it's just over.