Brittany has put forward a Pinterest Challenge! This is a good one since pinterest can be so inspiring – but we never get off our computers and actually do the project we are so in love with. She's linking up every Thursday, so head on over and share what you have made.
One of the first craft projects I pinmarked were these page corner bookmarks. They looked fun and easy and I am always looking for projects for my kids to do. We have made these a couple of times since I found them. My son was the crafter both times and he loved it. The hardest thing about this project is getting the teeth to fit right, don't forget to leave some room to glue to tape them to the inside. Jake gave them to his friends and heard nothing but praise for how cool they are.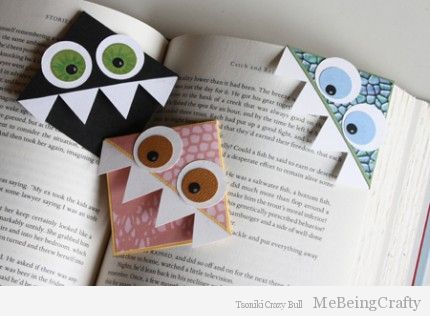 Tally's pic, from I Could Make That
 If you have really little kids, it's easy to cut everything out and just let them glue it down. If your kids are a little older, just help with the main body of the envelope. My son is 8 and once the main body is constructed, he likes putting the rest together on his own.