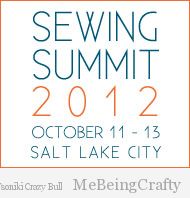 Yay! I'm going to the Sewing Summit!
I, like many others, was ready at 8 AM (my time) earlier this week when the tickets went on sale. I didn't realize that last year tickets were being sold up until the conference started, I just wanted to buy my ticket and get a small discount (I lucked out and was one of the first fifty to register!). I have a room reserved and will probably get a roommate.
I promise I've been sewing up a storm lately! I haven't had time to blog about any of it, but I finally uploaded pictures to flickr so here they are.
The first hexies I made. I just went for it one day and whipped up a bunch of them in a couple of days. I am making a window covering for a friend of my Mom's, I'm almost done with that so pictures soon!

Here is one of the first mug rugs I ever made! I made a Turning Twenty quilt with these fabrics and had enough left over to make a mug rug. It is a little busy, but I still love it.
Back of mug rug. Straight line sewing!
And the other of the first mug rugs I've ever made – I've made two so far. I love this strips of color one.
And certainly not least, the mug rug I received from Sister Diane in the Craft Social mug rug swap! I love this and use it when I am sewing.