I am forcing myself to not start any new projects. No working on the Dancing Stars practice block or first month block, no starting a charm pack quilt, no new anything. Because I have three quilts to quilt. The most important – and only one I started – is a baby quilt. I'm not positive on the due date, but I think it is tomorrow. Or maybe today. At any rate, we are right around the corner and I'm not done yet!
First I tried marking straight lines with painters tape. I think I saw someone else do this? I can't imagine any other reason why I would try. Long story short – don't do it.
The tape got jumbled up and stuck to itself. It sort of worked on the first one, I didn't realize that the end got stuck on my walking foot and that was part of the reason that it was wrinkling. I did two more lines this way and then pulled it off.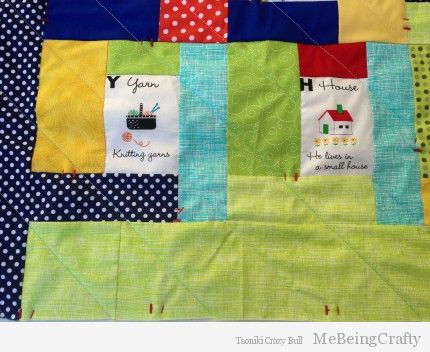 You can see the markings and lines here. Can you see that I didn't sew through the alphabet blocks? Yeah, I don't know why I did that. I thought it would be easy, or even fun. But starting and stopping that much, not fun, and really not easy either! But I'm about half finished and hoping to finish today!