I love a good list. I saw this over at Molli Sparkles and figured it is a good jump back into things since I'm finally home.
1. I don't like novelty fabrics. Yet I have a stack of charms and really want to make a Polaroid quilt.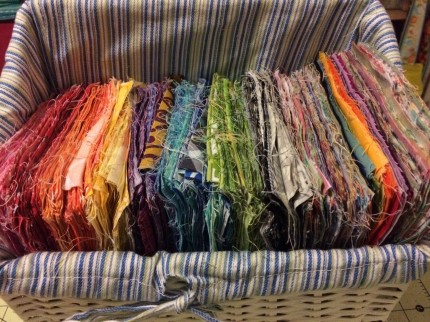 Charms – headed for a Polaroid quilt. Or a rainbow quilt. Or both (there are a lot of charms!)
2. I don't pre-wash fabrics.
3. I can sew a quilt top really fast – and then it lives in a stack on a bookcase.
4. I usually have a love-not love relationship when I sew. I love the fabric and pattern when I start, I go toward not loving during the process, maybe I love it, maybe I don't, when I finish. And then I love it again when the quilt is completed.
5. I can be a procrastinator. I find that I work well close to the deadline, so maybe that's not procrastination, but just really good planning.
6. I enjoy the ironing (I know I'm supposed to press…oops) during the process, from the hst's up to a block up to the finished product. Ironing clothes – nope.
7. I didn't know fabric or quilt designers until the last couple of years. A lot of the time I still don't, but sometimes I do get caught up in the "ohhh it's fabric by my favorite designer, must have all of it now."
8. I'm still not sure I know how to do the stippling free motion quilting when I FMQ. I mean it's easy, and I'm sure I am doing it "right" and it always looks good, it just feels odd.
9. I love cutting fabric. I love going through my stash and finding the perfect fabric for what I am working on, ironing it so I can cut. I prepared a lot of my own quilt kits before we moved over here and it was so fun to see it all together.
10. Sometimes I desperately miss sewing with others.