I love that blog hops and the like are still making their way around. I am participating in the Around The World Blog hop, a good way to introduce people to new bloggers and learn a bit about our, and their, creativity and what drives them.
Amy over at Indigo Cottage Quilts tagged me, she found me through a link up at another blog. (And sorry to Amy – this was supposed to be posted last week but me being sick just threw everything off.) Be sure to stop by her blog – she's working on some Halloween projects and is working on turning a mostly unused room in her house into her sewing space! I am always happy to see other people's sewing areas since I've had so many and had to make each of them work wherever we lived.
1.) What quilting/sewing project am I currently working on?
Ohhh – loaded question! At this moment I am finishing up my Color Blocks quilt. This one is broken down into sections and I have just one to go! I had a little bit of a hard time finding the solid fabric the pattern called for so I substituted what I had. I am also working on the Ballerina pattern that was created by Julie at Jaybird Quilts. I cut up a bunch of Amy Butler fabric for this one and can't wait to see it all together.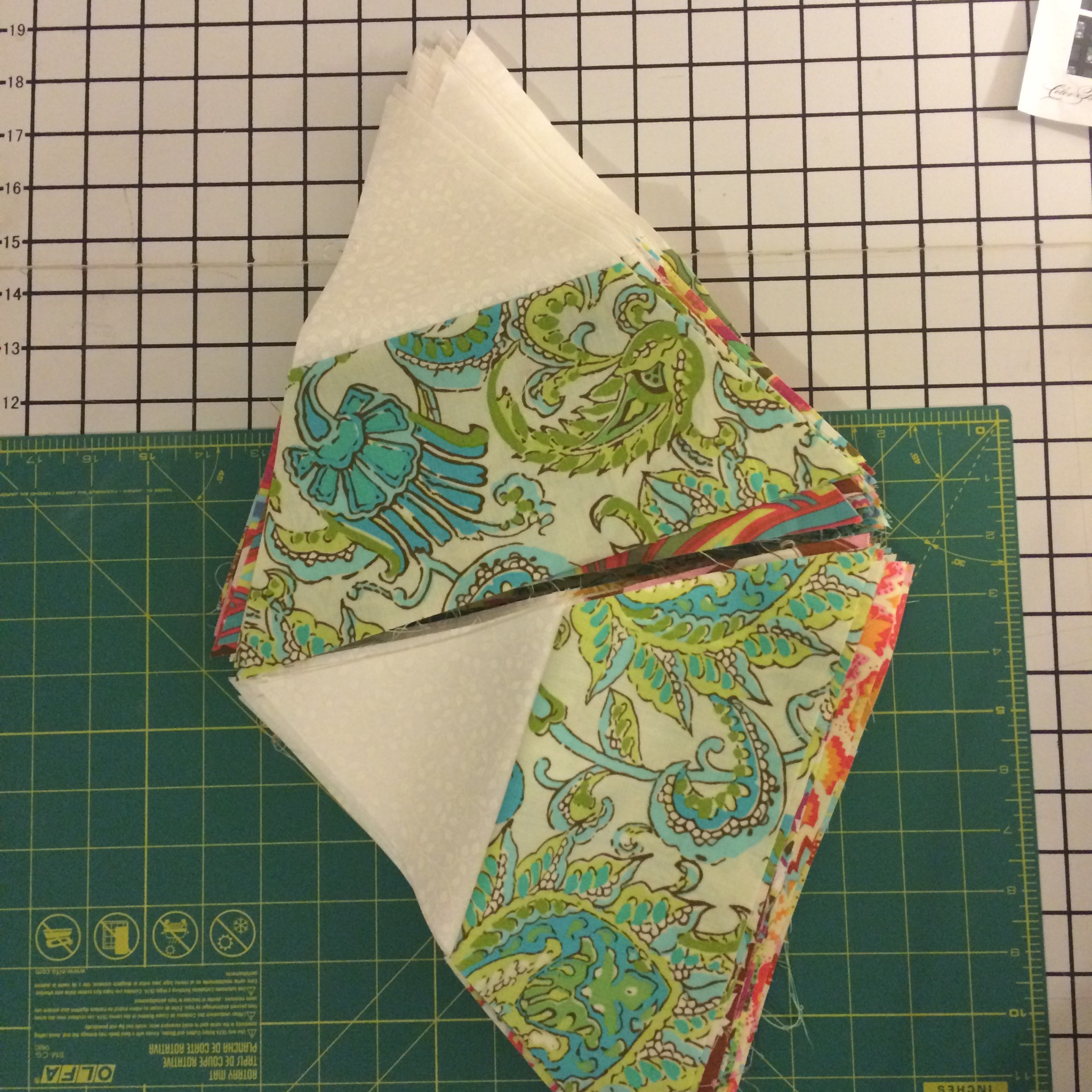 Ballerina
I have a lot of WIPs and this week my daughter and I are cutting fabric for a quilt she is going to work on. To some people it can be a distraction to have that many projects, but for me I like it. I like being able to sit down and do whatever I am feeling like – cutting fabric, sewing, ironing, etc. Because nothing is in the same stage as everything else.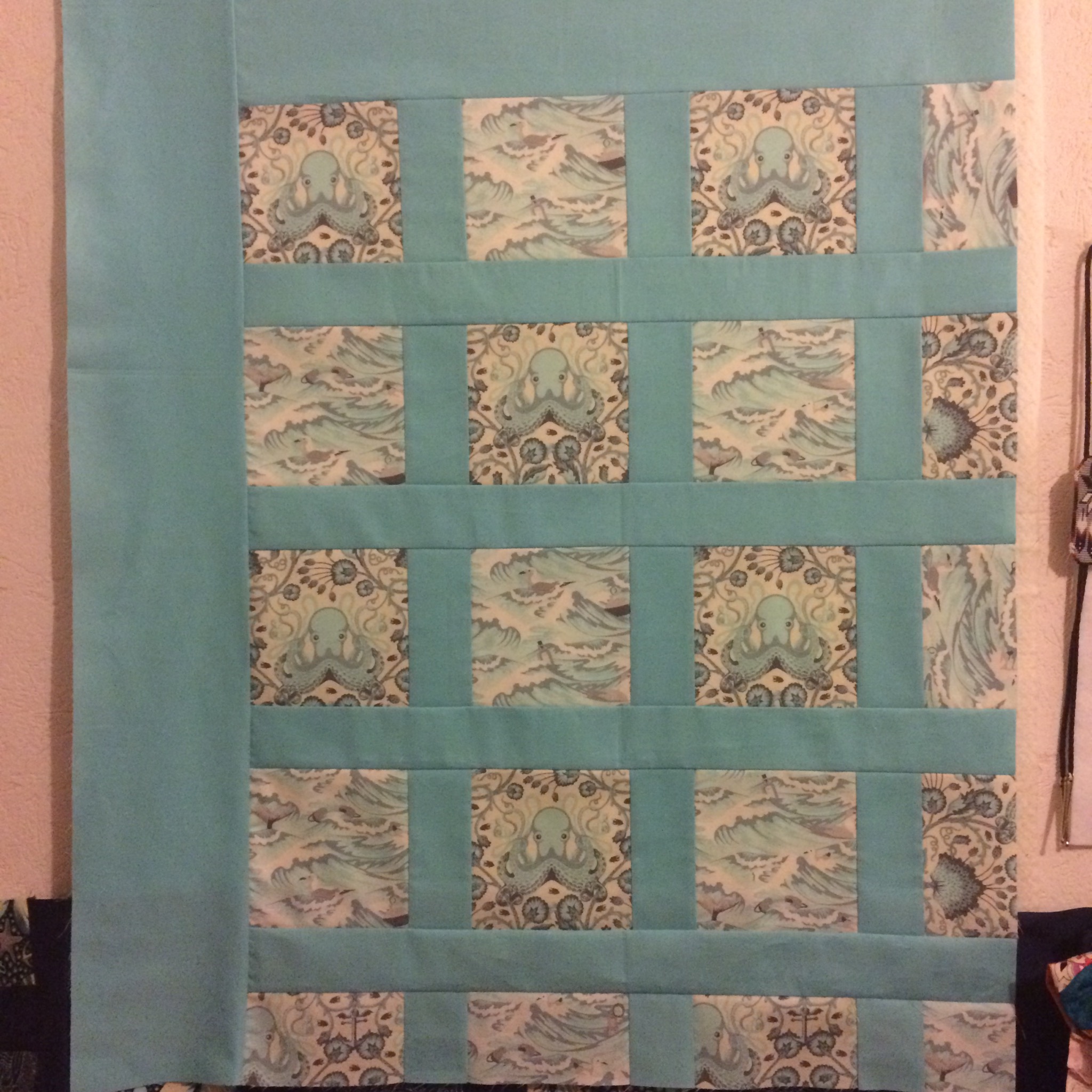 Colorblocks
2.) How does my work differ from others of its genre?
I've thought about this one a lot. The only thing I can really talk about is how I was taught and what I think about when I am sewing or creating. I remember watching my Grandma and Mom sew, and watching my Aunt make things. I hope my kids can think the same of me when they think about making and creating – that I really love creating things. The differences between me and others may be that I am always looking for meaning in what I do. Of course I hope everyone does this, and I know that sometimes finding meaning in everything can be exhausting. Don't let it be exhausting and don't let the meaning be something big and deep.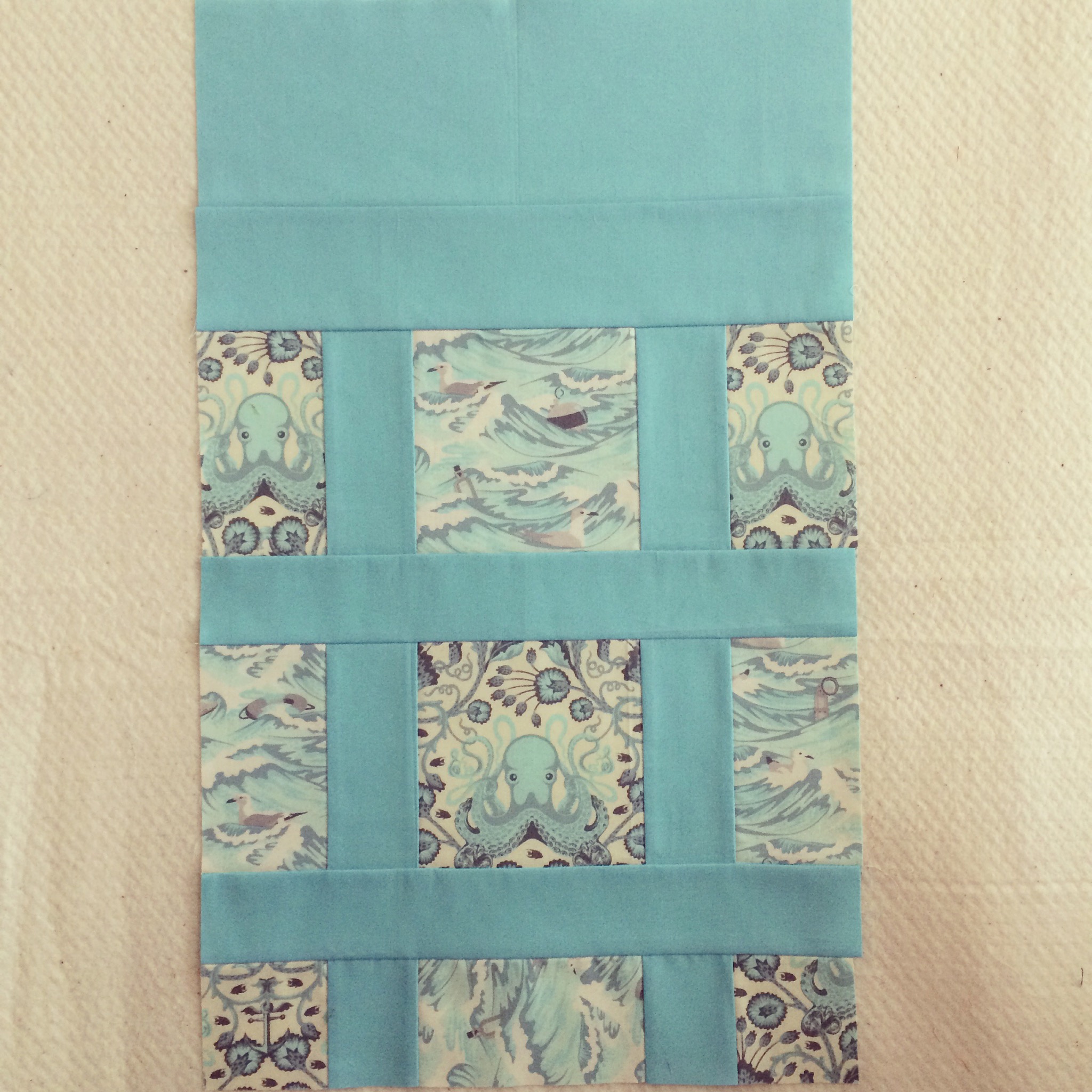 3. Why do I write/create what I do?
At the end of the day, I believe that everyone needs to do something. Everyone needs to create, make, do. I think it's healthy for your mind, body, spirit, everything. My love of quilting reminds me of my Mom saying that Native people have always been industrious, we have always stayed busy – whereas long ago that was hunting, preparing meat, taking care of our relatives, that has morphed into today's world in which there are so many ways for us to waste time doing nothing. Do we need to be busy 24/7? No. But we all have the same amount of days and hours, we all have time to do something.
Over the years of us moving, meeting new people, and making (and maintaining!) friends I've met a lot of people. I've met people who run around with all the activities their kids are in, who work and spend Saturday's at the soccer field with their kids, all the way to the other end of the spectrum of meeting people who have zero hobbies. I work hard to not judge people, and hopefully this falls within the no judgement category, but I truly don't understand not doing anything. I don't understand the days and hours that we all have and not being productive. Of course that doesn't mean you should jump up and build a house in your down time (or do, that is kind of awesome), but do something. What falls into that line of not understanding is people who really don't do anything – I've met people who don't even read for pleasure. Not doing anything as in no hobbies is one thing, but not doing anything (other than taking care of kids and house) period? That is just really weird for me. Of course taking care of your home and family is doing something, that's a huge something, but hopefully cleaning your house isn't taking up all of your time, and that's also not something for you. We all need to do something for ourselves.
Not only do I love all aspects of quilting – looking for or creating a pattern, finding fabric, cutting, sewing, ironing, basting, quilting, binding – because I really do. But I love having something to do. We had kids early in our relationship and the first quilt I made was a baby quilt for my niece, we were living far from home and I was working but it was temp jobs and so I had downtime. And also, no kids at that point. I hand embroidered blocks and then hand sewed them together, sending them to my Mom to finish for me. I didn't have a sewing machine at the time. The next quilt I made was for our daughter, I had a sewing machine by this time, and we still use that baby quilt.
Quilting is also about connections. Every quilt ends up holding a story, like how the first baby quilt I made our daughter was in mostly great shape until we went to a family reunion in Nevada and fireworks were a little wild so now there are two or three small holes in it. Still useable of course!
And so – everyone do something today. Anything. Remember that our ancestors worked all the time, and not so we could stare at the tv watching lame shows. Unless you are watching Chicago Fire. Or Scandal. Or NCIS. Okay I'll quit. Obviously I do watch tv 😛 but I am also a bad tv watcher because I sit and do hand work – sewing or beading.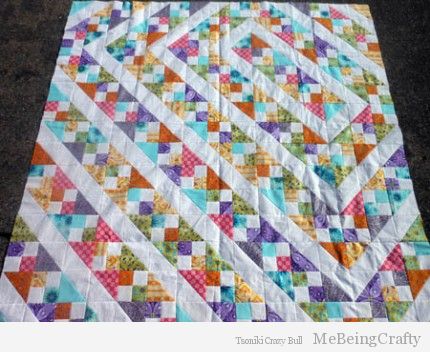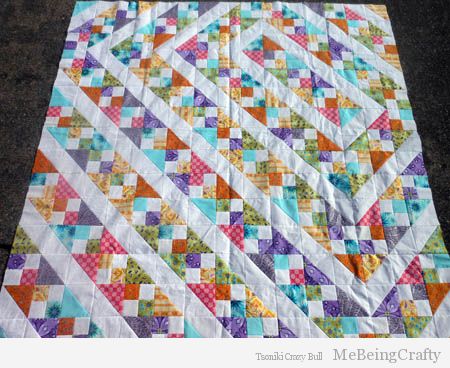 This is a quilt I made for a very close friend's wedding, the pattern is from a quilt along and made using charm packs.
4.) How does my creating process work?
Short version – Fabric is inspirational, so are images that others show, projects my friends are creating, the weather, etc. It's really easy to look around you and feel like there is something that can inspire you to create. When I want to make a quilt I generally pick a pattern – pick fabric – leave fabric and either the pattern or book or a sticky note w/ the name of the pattern – come back to it a few days later to see if I still like everything together – and either remove fabric and try again, or iron and start cutting.
Longer (but not too long) version – I love books. I love reading and we have a large book collection in storage in the US because it was just too much to bring with us. Of course we still ended up with a bookcase or so of books here. And we keep ordering books. Even having the kindle app doesn't fix that ordering for us! I used to love going to a bookstore, finding the craft or sewing section and looking at books. My highly scientific way to deciding if I wanted to buy a book is quickly glancing through the book after I find out how many projects it contains – if I feel like I will make at least half, I buy it. Now you see why I have so many books. 😉 I love a book with a lot of words and great pictures, with the right amount (right to me of course) of instruction or diagrams on how to do the basics. I have a harder time now since I can't flip through a book that way. So I go off of blog hops, project pictures shared on instagram or blogs, and hope that Amazon will have a "see inside!" link. And although I do keep ordering books, I am not over-ordering – both because we don't want to have to move a lot of books with us and because I can't look inside.
So after I have the book, it's the same process as the short version – pick the fabric, let it sit for a day or however long, and go from there. I have sometimes put this set up together and forgot about it or just passed it by, for whatever reason, and in the end end up giving myself permission to put the fabric back in my stash. I don't mind when that happens.
Lately I've been using TouchDraw more often to design quilts and I look forward to asking for pattern testers at the beginning of 2015.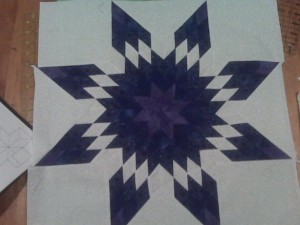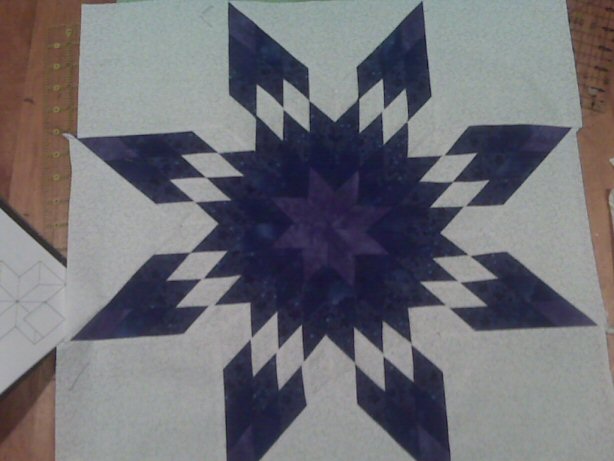 Tiny starquilt pillow
Sometimes it's the simplest questions that can get a person to think a lot. And I do think that living in France has turned me into a novelist in my texting and emails, and I suppose here a bit as well. That's just one side effect of living in a country where you don't speak the language fluently, you end up finding alternate ways to get your words out.
And now to tag. I was only able to get in touch with my good friend Jessie, who is over at A Tiny House. Go check her out, because she is awesome. She and I had never met in person but we were both attending Sewing Summit a few years ago and we hooked up to be roommates. I am so glad we did because I just really like her. She shares her fun family trips, beautiful things she knits, and on a new chapter. Jessie's new chapter made me feel really good for her. So many times I have felt like I was in just a different place than my friends in terms of our life plans. I have been able to say okay it's different now, we'll be closer again when they get to this spot that I've already passed. I feel like I spent last year not only settling into this new place and figuring out where I fit here, but this year I feel like wow, I have so much time to be me. I had the same schedule last year because we started off with all three kids being in school but I didn't feel like I do now. So – check out Jessie, she's so great, and I'd love it if you friended me on instagram or twitter, and I now have a facebook page so head on over and like the page.