This may be the fastest quilt ever! We stopped at the Liberty of London store during our vacation this summer, and we just wandered around the store. It was so fun to look at the clothing, scarves, and kitchen items. So many of the stores in London were stunning, four, five, six, seven stories high packed with so many things and people waiting to help you find the perfect something for whoever you are shopping for, even for yourself. Of course not every store is this way, but the large (and okay maybe also slightly touristy since these are the places the tourists be sure to stop by) stores seem to be set up this way.
I grabbed this roll of Liberty fabrics and the label had a suggestion of sewing the fabrics together for a quick quilt that would be good for the couch. I have a few pieces of Liberty but didn't want to cut into it and try to figure out a good way to sew them, so I figured what the heck and went with the suggestion – especially after coming back from our vacation with the news that our closest friends here will be moving within just a couple of weeks. It didn't take long to sew the strips together, and I had the kids me baste it because I use the floor since it's the largest space (I really want to try the basting w/ 2 x 4s, I watched a video and it looks really easy).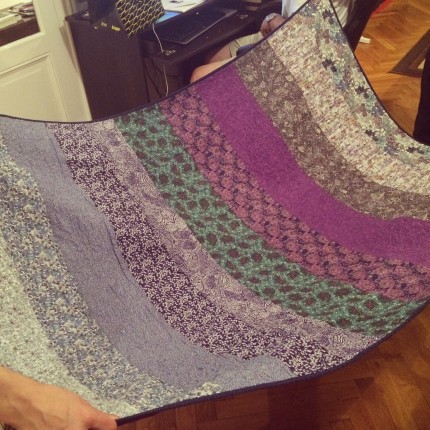 I did the quilting over a couple of days, and the binding (I always hand sew the binding, I just don't love how machine binding looks) while I watched tv. The quilting was good practice for me as I usually do straight lines and/or stitch in the ditch. Each strip has something different quilted in it, and there is only one strip that I don't love, I just like it. Like any free motion quilting, I got better as I went along.
And so we have to say our first 'see you later' to friends here. I am sad because we were frequent guests for dinner with each other, JW and their children went to school together, they have a baby for us to fuss over, and for so many other reasons. It is never fun to leave the friends you make, and regardless of what anyone else says, it is never easy nor does it get easier.