Saturday had continental breakfast at the hot hotel and more classes. I took screen printing with Karen and OMG I think I have a new hobby. She taught us how to quickly do screen printing with supplies any crafter would have at home. I ended up having enough time to make two designs and stamp over a fat quarter of the fabric I bought with me. I need to buy more muslin and also some paper for the design so I can get my kids to do screen printing too.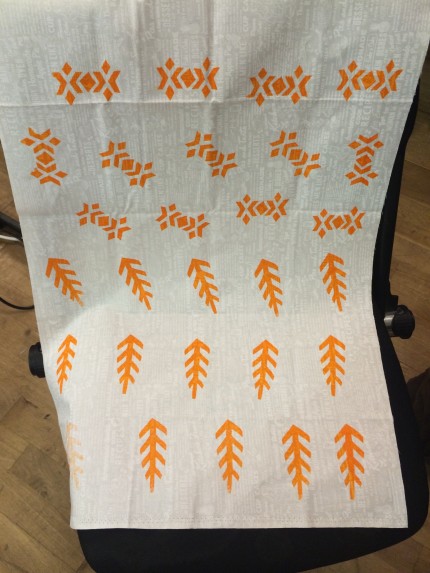 Here is the fabric I printed on, it is white text on white.
Lunch was a time to chat with people and take things back to the hotel so I didn't have to lug it all around for the rest of the day. Of course the heat made me forget my bag in the classroom so instead of unloading, I had to bring another bag with me back from my hotel run! My afternoon classes were fun – I attended two lectures, one on getting patterns into print and the other on quilt math.
The patterns into print class was full of great information. Jenny Fox-Proverbs, editor of Love Patchwork and Quilting, gave the lecture and she had enough time to answer a few questions from the class. She gave great tips such as how to submit something to a magazine editor and to remember to be true to yourself every step of the way.
And the quilt maths class was fun! Funny that math can be fun, but it was. Lily gave us tips on how to calculate the fabric we would need based on the design, as well as a couple of ways to figure out and piece the backing. I always struggle with backings so I loved that part of it.
Saturday was dinner with a few friends and I went to a fabric shop that sells Liberty fabric.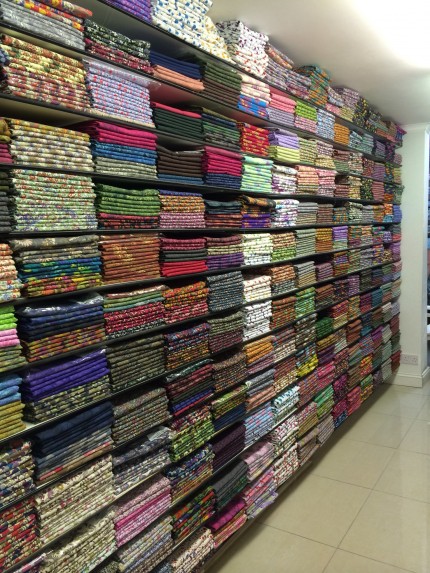 This is crazy. This was so much fabric, it was overwhelming. I wandered around the store for a few minutes before being told they had scraps on the lower level. After flipping through the scraps, I found a handful that I brought home with me.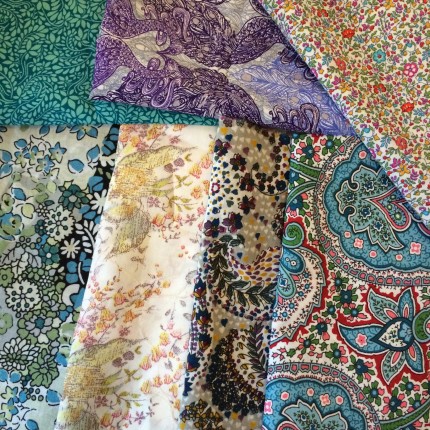 I don't make clothes otherwise I would have definitely bought a few larger pieces.
After dinner, Saturday evening was a night of quizzes, show and tell, shopping, and visiting with new friends. A handful of us staying at the hotel stayed up visiting after we left the center the retreat was held in. Sunday morning were the last couple of classes and then it was over! It all went so fast. My last classes were Modern Knots and a class on learning how to use Touchdraw. The Modern Knots class was fun and interesting, and I finished mine during our camping trip in July. More on this in another post because the idea behind it is interesting.
The Touchdraw class was SO dang awesome! It was seriously really great. This is a simple program that you can use on the ipad that you can use to design quilts. I spent the rest of the day on Sunday, during my travels home, playing on the app and kept it up for a few weeks. I'm not sure how many designs I have, I did no designing while on vacation but I have a lot of pictures to look back on once school starts and I have time to get back to it. I really love that app and highly recommend it. It is easy to use, easy to learn to use, and you can have a design in minutes.
All in all a fantastic experience and I hope to go again next year!