We had a really great summer. Technically we have a week and a half left of summer, thanks to the September start of school over here. The first part of our summer was spent sleeping in, the kids reading book after book, sewing, playing with fabric, hanging out with friends. The first part of our vacation was a week of camping. More on that soon! But the second part was a vacation in the British Isles. Thanks to Wikipedia, I can say that is an impressive number of of islands including the UK, Ireland, and Northern Ireland.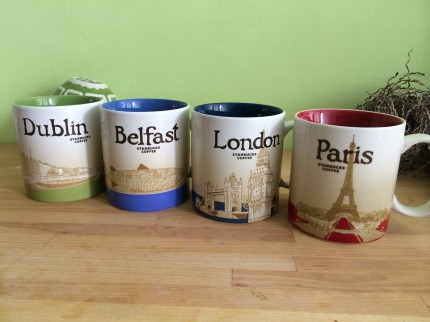 We spent a few days in each of Dublin and Belfast, took a ferry over to the UK, and spent just over a week in London, ending with a few days in Paris before heading home. It was all a lot of fun and I thought I'd share some tips.
The biggest thing in any vacation is to plan, plan, plan. Of course planning is the most important when it comes to a trip, and this includes being organized. We've been talking about the trip for months now but didn't really start buying tickets and making reservations until a few months ago.
If you are a little flexible with the dates you are traveling, you can search for the best price for the flight or train you would need to take. We flew over (our only option, I was not interested in riding a ferry for hours) but we were a little flexible in the dates so I picked the cheapest flight. The same goes with the train, check which dates are the cheapest and plan around that. We are a family of five so transportation and hotels were our biggest cost.
Hotels in Europe are different than in the US. The majority of them will not let you have more than two or four people in a hotel room, so for a family of five we would need to get two hotel rooms. There was only one hotel in London that had a deal on the website that offered the first room at regular price and the second at fifty percent of that cost. We went with apartment rentals because it was cheaper in a lot of ways. We stayed in a StayCity apartment, the Malone Lodge and Apartments, and two apartments through AirBNB. This also allowed us to cook food, which is another way you can save when on a trip, and wash clothes without worrying about emptying a hotel washer or dryer.
We are tourists of course and I love doing the big bus tours. We did one in each city and I think these are great deals since you get to see a large part of the city. You can also use the buses for your transportation, building in time since they are a slow way to get around. Check online for things you want to see or do because they will usually offer discounts. The big bus tours offer anywhere from 10-15% off. Other tours offer the same range of discounts. Double check how your tickets to the tours will be delivered and also accepted by the company. We had tickets that we had to print, others that were delivered to a phone via text message, and others that we had to claim at the ticket office.
Leave yourself open to extra tours or experiences. I'm not a spontaneous person, not really. I like to have a plan, at least a broad overview, of what is going on. We had the big bus tours planned in advance but still had other times open, in Belfast that extra time left us to go up the countryside to the Giants Causeway. This was a stunning sight and a trip we were all excited to be able to take.