Podcast: Play in new window | Download
Subscribe To The Me Being Crafty Podcast! RSS
Head over to iTunes and subscribe to Me Being Crafty so you don't miss an episode! You can also subscribe on stitcher.
Welcome to episode 045 of the Me Being Crafty podcast, where we explore creativity in your life.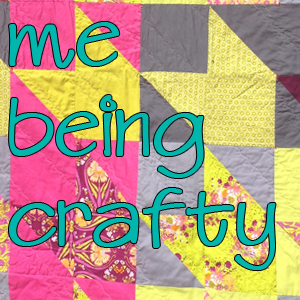 In this episode I talk to Sylvia Schaefer of Flying Parrot Quilts. We had a fun visit about how she got started quilting, her process for designing, and thoughts on making quilts specifically for shows.
I found Sylvia thanks to her Insane Artichoke Quilt – take a look at it, insane may be a funny title, but it's a crazy quilt for sure. I love this design! Thanks again for being on the show Sylvia!
Sylvia has a page for her Science Quilts as well as for her non-science quilts. We talk about her growth in quilting, and even a cursory glance at the thumbnails of the quilts on these pages this growth is evident and easily seen. I am always happy to see people pushing themselves, trying something new, figuring out something new. Sylvia said something that really clicked and that is that there are enough simple patterns out there. That is something that makes a person pause. At some point, I think everyone that sews or quilts starts working on their own designs. We change a pattern here or there, that feels comfortable, and we move on to designing a quilt. And Sylvia is right, there are a lot of easy patterns out there. The great thing is that there is room for all of these patterns. There are people who want to push the boundaries and want an advanced pattern to help them get there. The patterns that Sylvia is creating and selling are not crazy difficult, but they are also not on the simple side of things.
We also talk about the process for making a quilt and how a quilt you are interested in entering in a quilt show is made differently than a quilt you are giving to a baby. She's so right, isn't she? I mean, a baby quilt is going to be loved and chewed on and dragged around and washed regularly. No one is going to critique your stitches or binding, but a quilt show doesn't have babies for judges. So there are definite differences that exist depending on why you are making a quilt.
Click for the Insane Artichoke Quilt pattern and the Paper Crane Quilt pattern, both available in Sylvia's Flying Parrot Quilts Craftsy store. Here is her binding curves tutorial as well.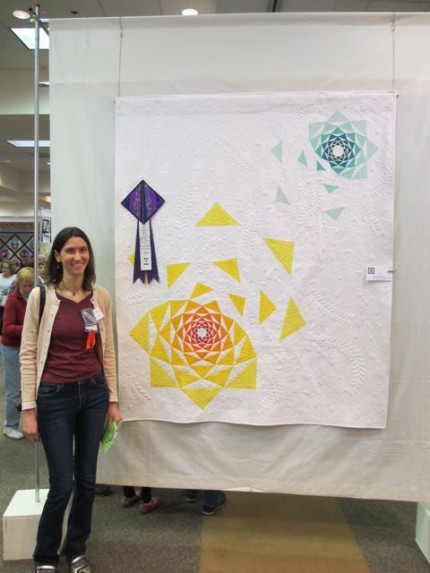 Where you can find Sylvia – Sylvia on instagram – Sylvia on pinterest – Flying Parrot Quilts on Craftsy
Listen to episode 045 and let me know how you make a quilt differently when thinking about the future of the quilt.
Leave me a comment and let me know how you were creative today. Me, I'm quilting a starquilt!