Head over to iTunes and subscribe to Me Being Crafty so you don't miss an episode! You can also subscribe on stitcher.
Welcome to episode 048 of the Me Being Crafty podcast, where we explore creativity in your life.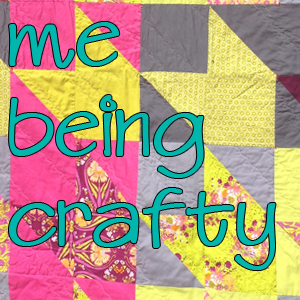 In this episode I talk to Kerry Green of Very Kerry Berry and also of Sew Ichigo.
I have loved the Sew Ichigo patterns since they started being produced so it was a thrill to visit with Kerry about her journey with sewing. Thanks again for being on the show Kerry!
Check out Kerry's handmade wardrobe posts, she is an amazing seamstress. I love that she goes into detail when she shares what she makes, telling what she modified, giving tips on how to make it even better. She also talks about her work with Penny and their patterns from Sew Ichigo.
The My Small World quilt along has just started, here is Kerry's part one, so if you are interested you still have time to join in on the fun!
Kerry mentioned that one of her all time favorite singers is Nina Simone, here is Kerry's favorite song Do What You Gotta Do:
[youtube]https://youtu.be/oQDr2BaAV9Y[/youtube]
Where you can find Kerry – Kerry on instagram – Very Kerry Berry facebook – Kerry on twitter – Kerry on flickr
Listen to episode 048 and let me know if you are joining the My Small World quilt along, I'm going to get started on my Gypsy Wife quilt soon!
Here is the latest quilt that Molli Sparkles created and there are links at the bottom of the post that will lead you to the form I mentioned in case you are interested in keeping track for a quilt you are making.
Leave me a comment and let me know how you were creative today. Me, I'm finishing up one of my last two mini quilt swaps.