When Cotton + Steel came out at Quilt Market last year, they blew everyone away. There was so much anticipation as to what they were going to show. And everyone was thrilled when finally seeing the fabrics.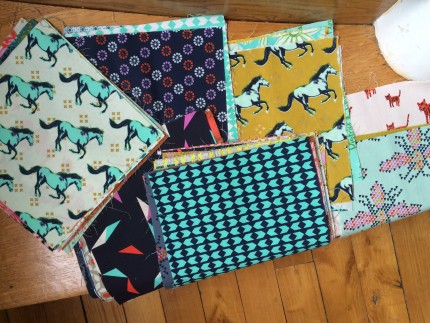 I have a stash of fabrics, I participated in a layer cake'ish swap and received one 10″ square of each of the fabrics. I look at what the women of Cotton + Steel have created and I am in awe, just so impressed with what they have managed to do within the quilting community and beyond. They made the choice to offer more than just quilting cottons and a wider range of fabrics opened them up to more than just quilts or bags being made with what they have created.
This great article on the Bitter Southerner by Dana Hazels Seith tells the story of Cotton + Steel. How the women grew up, what they studied, summers spent in foreign countries, art school, freelance work, and a half hour presentation to RJR Fabrics that changed so much – their lives for sure, modern quilting, and the fabric designs are just…I love a lot of them.
What always gets me is the story of how it happened, the behind the scenes of it all. Where those involved grew up, what they studied, what was that spark that influenced the designs they are working on now, what makes them put the designs together in order to make a collection. How Melody had a vision and went to these women to show them what she knew they could all create.
We will often leave a fabric bundle together and sew with the same line in a quilt, and why not – it was intended to be together! But of course pulling them apart and mixing and matching fabric can lead to some amazing looking quilts and other products. Reading the different articles about the designers that make up Cotton + Steel made me feel a connection with them because they shared so much of who they are, it made me excited for the fabric, it made me excited for what else they will create.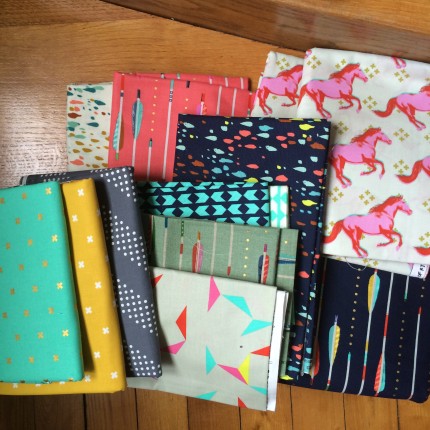 My creative voice is rarely quiet. I am usually sewing or planning a new quilt, cutting fabric, playing with beads, drawing designs on graph paper or an ipad app. I've asked guests on the podcast about their process for creating quilt designs and do they set a goal like wanting to publish a certain number of quilt patterns each year. I wanted to know because in the midst of that creative burst of energy, I end up with 30-something designs. Some that look crazy and really hard to sew, others that are so simple is it worth sharing, and others that I bundle together and will sew as a baby quilt club. But it's that 30-something designs that I find the most interesting because I just created design after design after design. I think that's what happens when you are in the middle of it, just being creative. After that burst comes the work – the narrow it down, the calculate how much fabric you need, the pick out the right colors of beads, and math. But the middle of it is awesome.
I'm a private person. I don't share a lot of myself online, which is of course an oxymoron right. How can we (people in general) be online and be private. I don't share my personal 'stuff,' I talk about my kids and share pictures, but I don't talk about any difficulties we may be having, or stress over grades that I have. I talk about packing and moving but I don't talk about the military all that much, or a lot of plans surrounding our next move. I do it partly for safety reasons, whatever small part that adds to the overall safety, and I do it because I am a private person. I don't want my business all over the place. I've always been this way. I have a handful, well probably two handfuls, of girlfriends who I can turn to in the worst of times and they are there for me. But I don't have quilty friends that I text or facebook message or skype. I don't send anyone pictures of what I'm working on over what's app, I don't skype or facetime someone and sew at the same time that they are sewing. I don't have anyone sending me pictures of what they are working on and saying oh my gosh this fabric is awesome or I love this pattern. And that is a bummer sometimes. I'm not an extrovert by any means, I'm not overly gregarious but I enjoy my friendships of course.
In emailing people to interview for the podcast, it hurt the first time someone said no. I knew it would happen, not everyone is going to say yes, but it was still a little of the "what, they don't like me!" for a minute. I had to remove personal feelings from the equation. For the past few months I've felt like I have been working from home in a whole new era, despite blogging for over ten years. I have to look at this in a new light, with new eyes, because there are so many more creative people working online. Not in the sense of competition and I want to avoid them, but in the sense of wow, there is so awesome stuff out there. I admit I have fallen into the, "wait other people are already doing this" thinking a time or two, even though I freely and loudly tell others that there is room out there for everyone. And let's not talk about the week or so when I moped around the house talking about how dumb it was for me to quit working online those years ago, how far I could have been by now. I got over that, moving forward!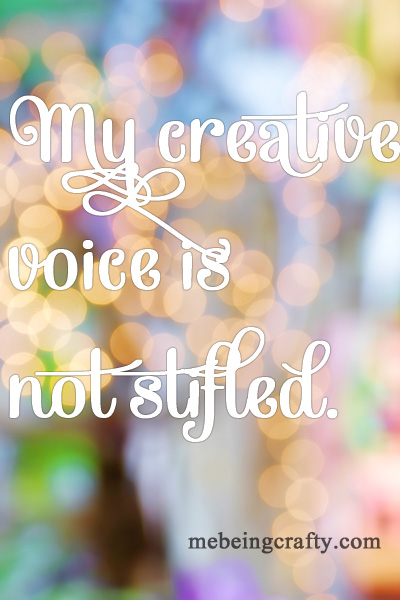 And through it all, nothing has stifled my creative voice. (Okay, my lack of being able to pick up my mail in a timely manner does kind of feel stifling sometimes, no new fabric until when?) I'm still sewing and creating designs and meeting new people. I am working on my quilt designs, baby quilt and larger, and planning the clubs I want to have. I am also working on putting myself out there more, with the new people and swaps I've joined this year. I know that in order to build a business I can be private, but I can't be secluded.
Does any of this resonate with you? How is your creative voice?