Creative Live is running several of their most popular classes for free right now so I took the chance to check out Bonnie Christine's Surface Pattern class. Our internet connection at the hotel is so bad! The class kept pausing to reload, or it would just shut down all together.
I watched just enough to make me realize that I would love the class.
During the class she shares a timeline that shows her progress in the career she's in now. She said one thing that made her shift her focus was that she needed to "Do one thing every single day towards reaching the goal of your dreams." That's simple right? Well, simple to say, maybe a little harder to do the follow through.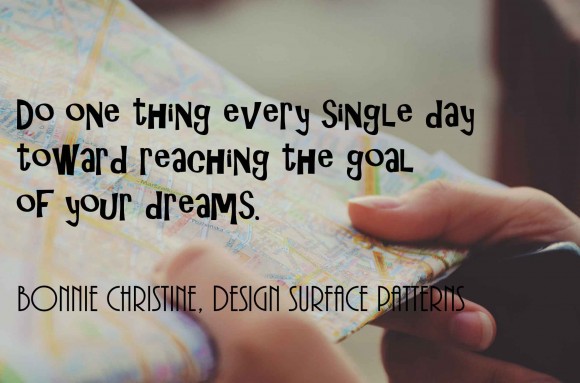 I haven't published a podcast since this summer. I didn't mean to take a break. I figured I would while we were moving, but it happened before that move. And of course we get here and we discover really bad internet. We are moving into our place soon, we don't have a date yet so it's just soon, and we'll get ADSL.
DSL. Over the phone line. What? I know! But hey, I'm just glad we'll get service. We had to sign a paper acknowledging that we understand there is a possibility of not being able to have service at our house as the growth of the city hasn't caught up with the demand. It's mildly understandable – rural parts of the US don't have great internet service. But it's certainly not what we thought we would run into here.
Because of that bad service, who knows what will happen to my podcast. But it is definitely time to do something every day to reach the goal of my dreams. In between unpacking boxes and getting out there driving these crazy streets.