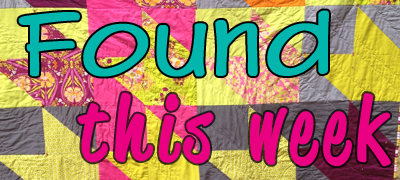 Welcome to another week of Found This week – fun links I've read or have been saving to share with you!
Hearts and arrows – just in time for Valentine's day! But really, I love arrows. I'm designing an arrow pillow now.
If you are interested in sewing with suede and leather, you need to see Charise's tips for sewing with it.
I love pincushions. This is a very easy hexagon pincushion tutorial over at Modern Handcraft.
I have long tried to keep a daily log book – just a sentence or two about what that day was about. I bought a five year one once – ha! I love this log book though, I already write notes in a moleskine journal, this would probably be easy. I'm thinking of a trip to the bookstore today to get another new journal. Or okay, I do have a stack of notebooks in my craft room to pick from.