This post is one-stop in the month-long Blogger Babes blog tour which began here. To read this post in-context, we recommend starting at the beginning–then hop along with us for the full journey.
Interestingly, this is Tsoniki and my tenth year blogging. I had websites since 2004, but my very first blog post was published in February 6, 2005. Regardless of the fact that we may be #digitaldinosaurs, there are always new tips, tools and resources available to make our blogging process easier or faster.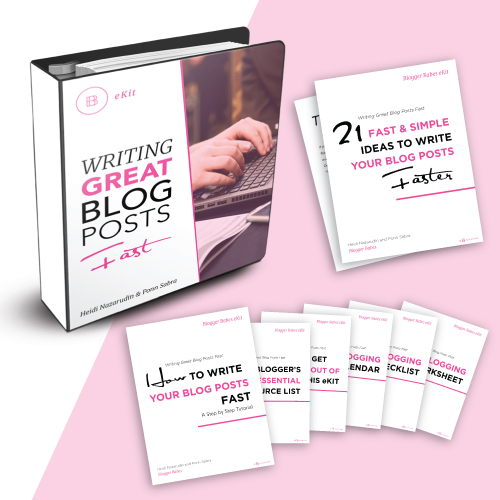 Streamlining your article writing process
Do you have a routine for writing your actual post?  Peck it out in MS Word, Notepad or Google Docs?
If you type in MS Word, you will find that you're pasting unwanted formatting commands into your WordPress "Add New Post" Text area box, when you copy-paste your content into the latter.
Some people are fine with typing in a plain text editor such as Notepad – but others like to see what the finished post is going to look like before they import it.
My editor and I use Google Docs for article collaboration, but we're transitioning over to Content Cloud since my partner Heidi and her editor love it so much. A blog task management system like Content Cloud is really helpful because because Heidi and I each have our own editor (though we both write or suggest articles for both blogs.) We also share an assistant,  a developer, a designer and two social media assistants. That's a lot of people and work to track to keep Blogger Babes running efficiently.
A good task management system can help you streamline your production process to maximize your time and effort while minimizing stress for your team.
Two other task management systems that members of our team have used are CoSchedule and TeamWork.
The above resource is an excerpt from our debut "How to Write Blog Posts Faster" Tutorial, one of seven documents in our comprehensive Blogger Monthly Tutorials launching on May 1st. Each tutorial eKit comes with a tutorial, 21 tips sheet worksheet, calendar, worksheets, all our recommended tools and much more!
Click here to sign up for the Early Bird special release of $5 per month!
Win Two-Hours of Blog Coaching with Heidi and Ponn ($298 value)
We're crowdsourcing the name of our Monthly Training tutorials. So, we need your help!
Grand Prize: Two-Hours of Blog Coaching by Blogger Babes Co-Founders (Value $298)
Two one-hour blog coaching sessions, one with Heidi and one with Ponn. Coaching will be conducted separately on the phone (domestic), Skype, or our recorded webinar room (international).
How to Enter:
Make one comment below for each monthly subscription title you create. Make sure you use your primary email, so it's easy for us to reach you if you win!
Rules:
Any age, any country. Minors with guardian's permission.
Unlimited number of entries across any/all guest blog posts from now until Monday, April 20, 2015.
Deadline date: Monday, April 20, 2015 11:59 pm Pacific Time. [After all, we need time to design the covers. 😉 ]
Winner selection: Heidi and I will select one winner and announce it Tuesday, April 21, 2015.
You can even champion your title by letting us know on Twitter @TheBloggerBabes or Facebook @TheBloggerBabes.
[Note: these actions do not serve as contest entries. Official entries must be made on this blogpost…but, we'd love to connect with you nonetheless.]
Next Steps:
Check out our draft sales page now, take some time, and share your proposed title below in the comments area on or before April 20th 11:59 pm Pacific time. While you're there, sign up for our Early Bird release special!
Can't wait to read your replies!
Ponn Sabra is a best-selling author and homeschool mom of three tween and teen daughters, also bestselling authors and probloggers [https://PonnSabra.com]. The Managing Partner of Blogger Babes, Ponn finally gifted herself a sewing machine last month. Since she hasn't sewn in over 25 years, she's eager to frequent Tsoniki's site to see herself "Be Crafty" again real soon. What have you gifted yourself lately?