A handful of years ago I happened to meet an amazing group of women online. I've always loved reading blogs and I found a couple that were written by military spouses, not the super popular ones, not the ones that ended up with thousands of comments, or book deals, but my new friends were smart and they were writing awesome things. But even better, for me, they were women I could relate to. Without getting into the whole military spouse of it all, the women I met through those blogs are still my friends, and I've even met a couple of them in person.
A few years ago this particular group of friends organized a secret Valentine swap, something fun and easy for us to do, and this year, once I got her name, I knew I had to make something awesome for my friend Charity. She graduated with her PhD this year, after working crazy hard to finish, while not being able to live with her active duty husband. I went in search of finding more details out about what she studies, how she fell in love with science, and I happened to find that it was a video about volcanos she watched at a young age that drew her to geology. I knew I had to incorporate that into whatever I made for her.
I've never made a pixel quilt and figured this was a great time to try. I found a volcano picture online, pixelated it, and set out to figure out how to make this come together. It took a lot longer than I thought it would, and I finally mailed the box containing a large mini quilt and a few treats from France in April. So a bit later than Valentine's day for sure, but I know she loved it.
The quilt label I use has a few lines for me to add who I made something for and any other details. I included this quote on the back:
Give me silence, water, hope
Give me struggle, iron, volcanoes.
Pablo Neruda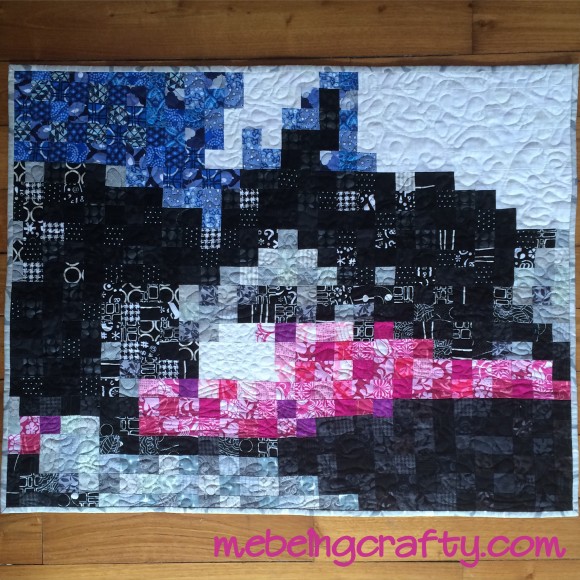 Volcano pixel art quilt
30 x 24
Vote for my quilt in the Blogger's Quilt Festival Art Quilt category! This is a twice a year online quilt festival, hosted by Amy at Amy's Creative Side.