My oldest son loves Greek mythology. His love started when he read the first Percy Jackson book, and hasn't wavered since. He's endured the movies (despite the comment that the books are so different compared to the movies) and reads the latest book the same day he gets it in the mail. So as a surprise, we arranged to take a long weekend trip to Athens.
The smaller airlines here offer great opportunities to travel. Naples is a large enough airport that you can fly direct to many places and the tickets are not very expensive. We flew with a Greek airline, Aegean Air, and managed to get seats in the second row. No first or business class on the small planes, I think your seat choice is made when you check in since it's a budget airline.
We always stay with an AirBNB rental because hotels in Europe are small and would require us to have two rooms. It's easier, and more fun and relaxing, for us to rent someone's apartment for a few days and also have access to a kitchen if we desire to cook. I found an apartment with a great view of the Acropolis and walking distance to almost everything we wanted to see. But like many other European cities, Athens is laid out in such a way that walking to things is fine. We did the big red bus tour (a favorite of ours to do in every city we visit) and enjoyed walking the tourist strip and side streets.
Outside of seeing all of the sites, finding good food is a priority. We arrived very late and despite it being around midnight (or possibly later?), we were hungry so our taxi driver stopped at a place for us to get gyros. Delicious! And only a few euros each. We had three full days to explore the city.
Favorite museum: Acropolis Museum. Everything from the Acropolis is in here, save for what other countries stole years ago and won't return. We also went to the National Archeological Museum (statue here is from this museum) which also had really a lot of artifacts from a wide variety of areas. The NAM was nice, and it was cool to be able to take photos (not allowed in most of the Acropolis Museum).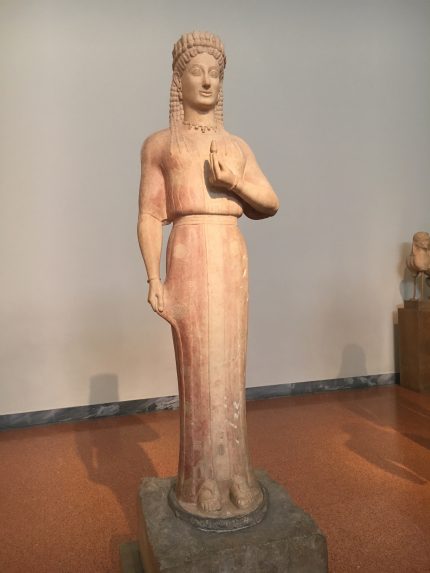 Favorite restaurant: Piatsa – we liked this so much we ate here three times! Top to bottom: feta w/ olive oil and herbs, chips w/ feta, feta wrapped in pastry and topped w/ honey and sesame seeds. I promise we ate more than feta. We ate at a couple other places that were huge disappointments, we feel like they thought, "oh Americans, give them the American type food" which was hot dogs in one restaurant. No thanks.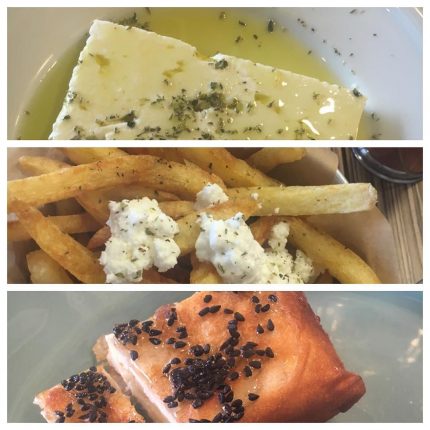 Favorite drink: freddo cappuccino! A few euros and served everywhere. I loved these, especially in the hot weather. We paid no attention to the weather forecast when planning the trip.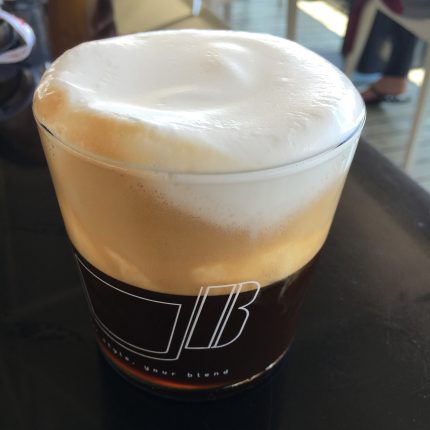 Favorite thing about the Airbnb rental: the rooftop eating area and view of the outdoor theater next door. We watched The Godfather one night. It played in English with Greek subtitles.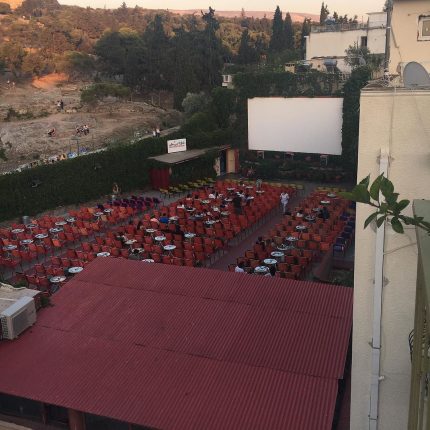 A tip about climbing the Acropolis: walking to get to the ticket booth takes the most time. I read review after review talking about the amount of walking you have to do, how steep the steps are, how many steps there are, one reviewer said there isn't an escalator (we'll just let that slide), etc. So I was nervous! We are used to talking, but it felt like everyone mentioned only the amount of steps and how steep it was.
And then it took maybe fives minutes. Sure it's a little steep (but just a little) and the stairs are for sure slick/slippery (JW slipped once on the way up) so care needs to be taken. But otherwise, it's a relatively easy walk. There were tour groups with older people in the group and they were going slow and doing fine. It's not a site you would run up the stairs at, but it doesn't take a tremendous amount of time like many reviews suggest.