In December we went on our first USO tour, to Sorrento and the Amalfi Coast. The drive – stunning, mildly scary, and super windy. Not wind like air blowing, but wind like wind a toy. Once we got across from Mt. Vesuvius the bus stopped so everyone could see the view.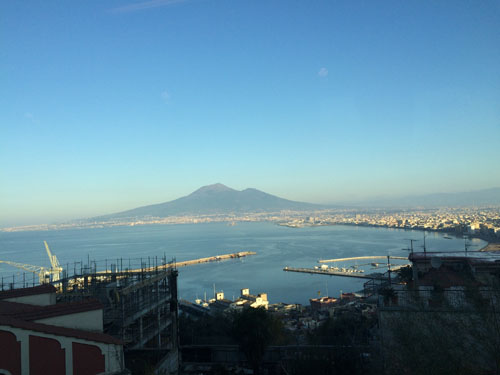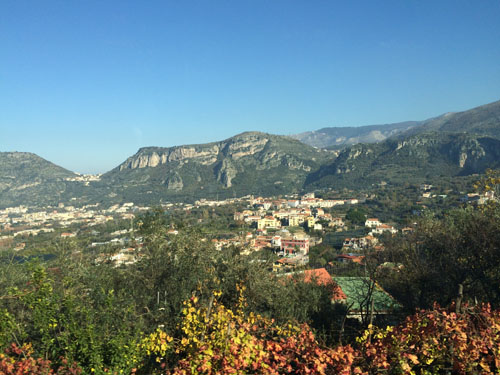 Our first stop was a factory that makes inlaid wood products. It was simply beautiful. We are always a little wary of a stop on a tour where you can buy stuff, it's a set up, it's just because of the tour, etc. But I don't think about any of that stuff – we are in a new country and have the chance to visit some awesome places, just take advantage of that.
I wish we took pictures while we were inside! But all I got was a picture of the side of the mountain – white limestone.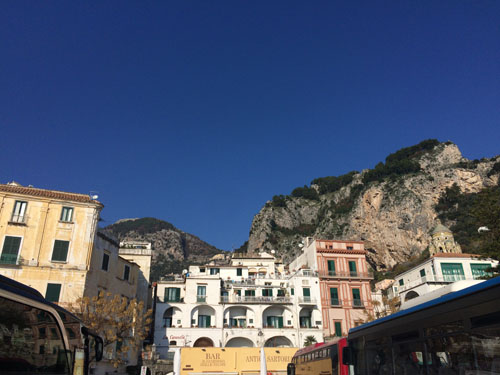 We were walked through their process from design to cutting, to how they dye the wood, how thin the wood is cut, everything. It sounds like a lot, but it was a quick explanation so we could get to the browsing and shopping. They even use some wood from Wisconsin, and the gentleman explained that he lived in San Francisco back in the 60s for less than a year, but he traveled the US for work so he knows the East and West Coasts well.
There was a beautiful desk that we all admired, but we couldn't find a price that we could say, "yeah right" to. I did pick out a beautiful box – made of olive wood and the inlay on the top made up of a few different types of wood, cut very thinly into veneer. I'll have to ask someone if they know how an olive tree ended up growing in my Grandma's yard, but it was there for years and years, and now I have a box made of the wood. This area (and maybe Italy in general?) is known for olive wood products, I can't wait to get a few more things!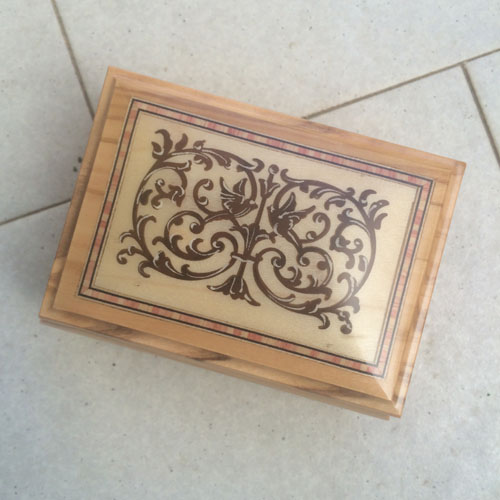 After that shop, we went into Sorrento. The city center is laid out in a grid so it's easy to walk around and not get lost. We had about an hour and a half so we just explored. There were some great shops off the main street, but it was early and few were open. The area is known for limoncello, a liquor that is produced in this area of Southern Italy; and ceramics.
We stopped for chips (french fries) and a snack, and even though I read a little about the area I was still surprised that everyone spoke English. There is just so much tourism that it makes sense for them.
One of the shops we went into was huge and packed with inlaid wood products. Everything from small tiles on up to furniture. They offered a discount because of the tour (we basically wouldn't have to pay the Italian tax – it's called ITA here, in France it is the VAT), but everything was expensive. The same box I got at the factory was about 1/3 more at the store.
They did have a wider variety of products – including this crazy chess set.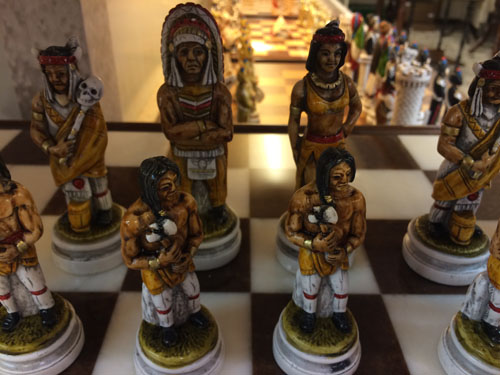 The board was wood but the pieces were porcelain. The set cost around 200 euros. The shop had quite a few sets – sailors, British military, animals, etc. We almost bought a small travel game set, but decided it was too expensive so we'll just remember it and buy it in the future.
After Sorrento, we started the crazy drive to Amalfi. So there's a funny thing – there is the Amalfi Coast and there is a town on the coast named Amalfi. Driving is simply out of the question. It is just a series of really sharp turns. The bus drivers are so talented, we decided early on that we were not coming back on our own. We stopped a couple of times for photos – the first stop we just pulled over on the side of the road and we weren't allowed to get off the bus for safety reasons. The second stop was sort of a tourist stop – just a place to take a photo and a couple of small road side shops. JW was feeling sick so we were happy for a stop at that moment.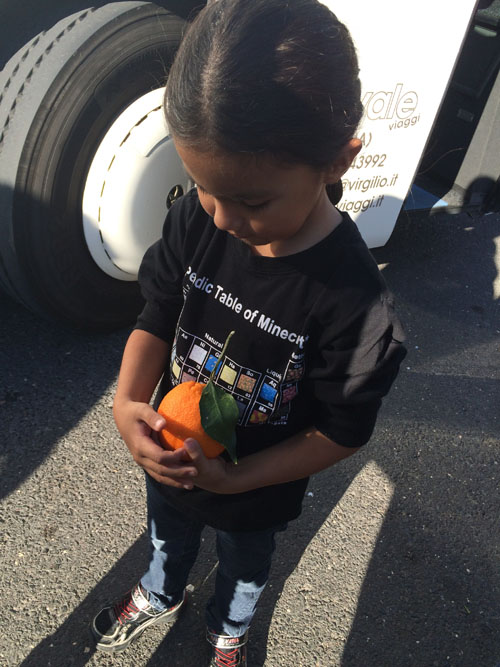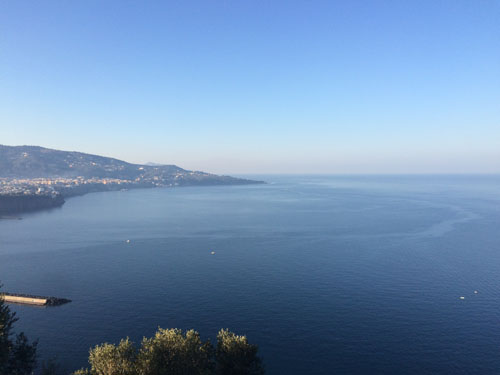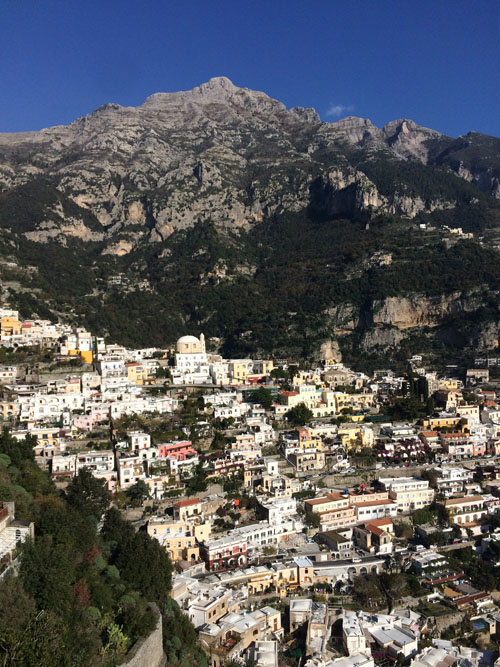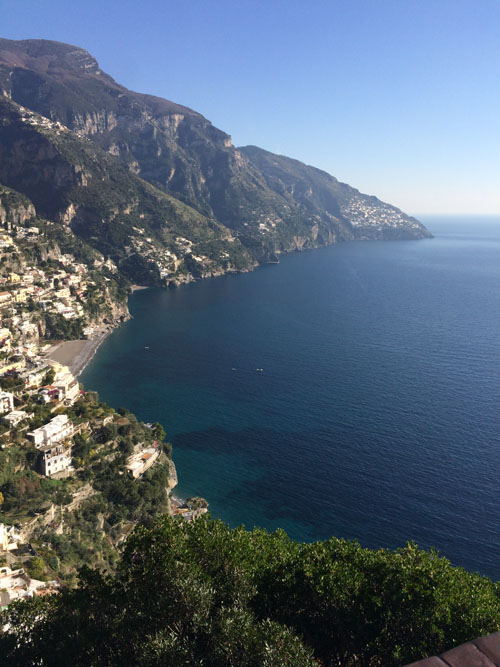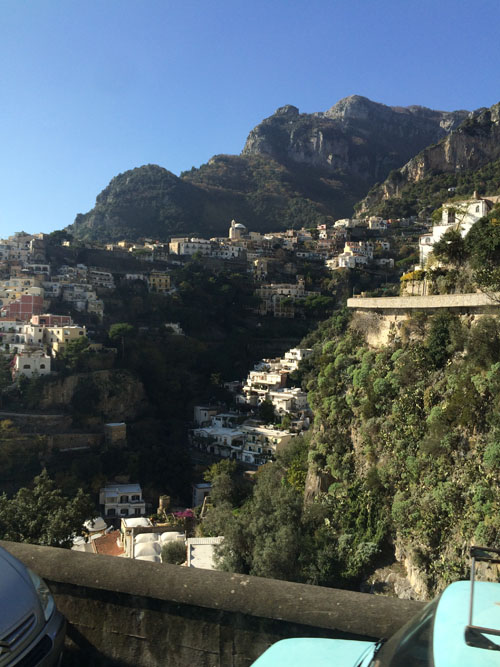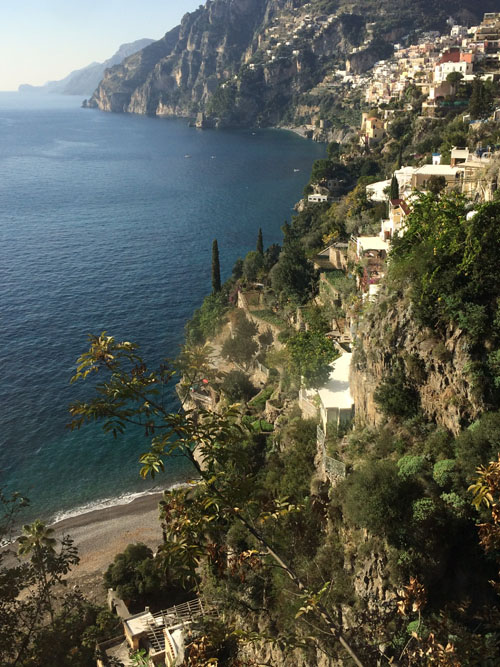 We made another stop at a ceramics shop – both to shop and use the restroom. Oh that's a bonus with the shops the tour stops at, they all have free restrooms. There are generally not free to use restrooms, there might be one public facility at the end of the street or near a beach, but otherwise that's not the case, and they charge per person. What everyone does is buy a coffee or two at a shop and use the restroom there.
We made it to Amalfi around 1PM, in time to find something for lunch and shop. We walked up to the end of the shopping area and just happened to find a sandwich shop that Kevin Costner visited.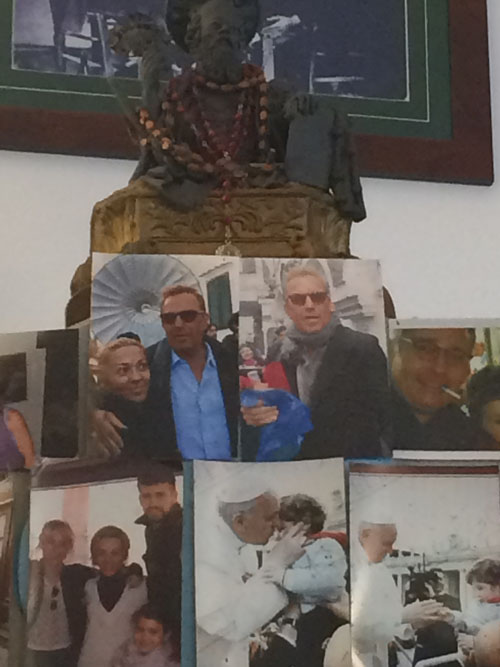 Seriously delicious sandwiches. Another thing I should have taken a photo of! I got a simple tomato and mozzarella – they poured olive oil on the bread, added arugula, and the last piece of ham from making the other sandwiches we bought and it was so good.
At the end of the street we searched a ceramic shop for an olive dish. I saw one particular one that at the shop outside of Amalfi, but for some reason didn't buy it. There are some beautiful ceramics available, but we didn't buy anything. We have some time here, so no need to rush and make a lot of purchases.
We did find olive oil in tins! That is something we have been looking for (okay, we looked at two stores locally, so we haven't been looking that hard) so we could ship it home easier. The store we were had had lemon everything – lemon candies, lemon salt, lemon sugar, limoncello, lemon soap, lemon candles, lemon everything.
The Amalfi Cathedral is in the Piazza del Duomo we were in and JW wanted to see it, but only to make it look like he was lifting it up. He was wearing Jake's sweatshirt so he looks funny, and his hands are pointing upward, but he's crazy happy.
After our time in Amalfi, we got back on the bus to make our way home. Our tour guide said it was a one way trip, in the sense of the roads we were taking so the return home was over the mountain versus along the coast. It was still a twisty road, not as bad, but still there.
Once we got out of the mountains, it was a quick trip back. It was really a great experience. And we needed to do something fun. This trip was after a hectic few weeks of apartment hunting, living  in a hotel, and cooking with only what the hotel provided for us. A break was definitely in the cards, and it was a nice way to celebrate that we were moving out of the hotel very soon. We've been in our apartment for a few months now and are enjoying finally having internet service!