On to day two of our Shop Hop: Cruisin' the Texas Coast excursion! We had planned on going to two of the shops then doing a third day of the shop – especially after hearing there was a new quilt shop but they weren't participating in the hop. We figure we'd stop there in addition to fnishing up the shop hop – ah the best laid plans!
We went to Golden Needles & Quilts of Rockport, got on the ferry to go to lunch at the Port Aransas Brewing Company, to Kalico and Keepsakes of Port Aransas, stopped at the hospital to see a friend who just had a baby, to the The Quilt Cottage in Corpus Christi, then finally to the new quilt shop, Heirloom Elegance.We left early in the morning and didn't get home until dinner time! It was a really long, long day.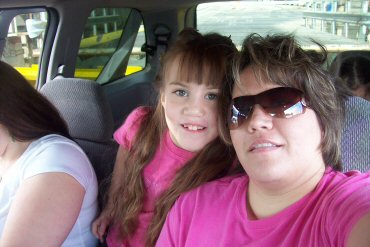 Alice & I on the ferry
Golden Needles is a favorite shop – we've been there a few times and the shop is very nice. She also has classroom space and depending on the schedules of friends we may rent it for an afternoon for our own get togethers! That may not end up happening but I like that the option is available (and really, I hope it happens at least once!). They had door prizes while we were there but none of us won anything. The free gift they gave was a cute felt pincushion and a fat eighth of fabric, I let Alice pick mine out which she thought I meant it was hers so now she has her own pincushion!
We lucked out on the ferry! We drove up and were second in line for the next ferry to leave – at least 15 minutes, if not a longer wait. But then they waved on the person in front of us and we thought "awesome, we'll be first!" – only to have them wave us on too! During day one of the shop hop others had talked about the long wait for the ferry due to issues they were having so being able to jump right on was fantastic.
The Port A Brewing Co is a great place to eat! They brew their own beer though we haven't been back to try any, I'm sure we'll go before we move.
Kalico and Keepsakes is a small quilt shop and of course I managed to find a few things I loved. She had more fabrics in a line that I have been collecting (collecting is what it has to be, I have no plans for it yet!) and also had a door prize drawing and gave you a fat quarter just for stopping by. I thought it was particularly nice that she let each of the kids grab their own fat quarter!
We stopped to see a friends brand new baby – she was born on Thursday night and we had been getting text message updates throughout day one of shop hopping. It was good to see her but we didn't stay for too long. I forget (or did I even know?) that kids aren't allowed in to see babies (and why is that anyway?).
The Quilt Cottage is a regular shop we visit so it was nice to stop in and look at her fabric again. I signed up for a couple of quilt classes at Golden Needles and ended up finding fabric for one of them at the QC! We'll see if I stick with that fabric in the end. They also gave away door prizes and all of us won something! I won a book, which is awesome, and their free gift for coming in was a pincushion kit. I sewed it together the other day so I'll share that too.
The last shop, Heirloom Elegance, was having a really great sale on fabric – 25% off *everything*. It was really hard to even be in there with those prices! It was like they read my mind and stocked their shelves with every fabric I've ever liked. I bought a few things and wanted to go back the next day (the last day of their sale) but didn't because I really bought a lot in those two days.
Whew! What was day three of the shop hop turned into a hang out and rest day for me. I sorted my fabric and put it with the rest of my stash or into project bags. It was also a few days into a short time with Chris at work so it was a day to clean up the house a bit before he would get home!
Have you survived my blog post? Have you ever done a shop hop? 🙂