There was a Shop Hop a few weeks ago that I attended! There were five quilt shops that participated ~ It was officially known as the Shop Hop: Crusin' the Texas Coast. For day one Shannon, K, myself and my kids went to two of five local quilt shops to participate in their Shop Hop. We went to the Quilter's Patch of Victoria and Beefore It's a Quilt & Gifts of Port Lavaca. Victoria is just over an hour away so we stopped there first, then on the way home we stopped in Port Lavaca.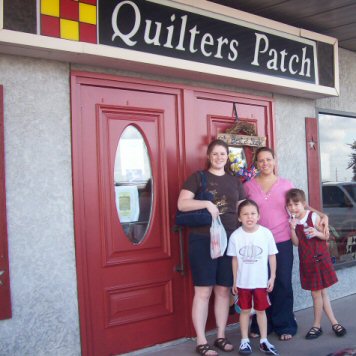 Outside the Quilters Patch
I took along a short list of quilt patterns I was looking for and some fabric because I was looking for fabric to go along with it. I have several quilts in mind that I want to make and figure why not stock up now! Of course that's the fabric collector in me.
We were lucky enough to all three win a door prize while we were at the Quilters Patch and they also gave out a goodie bag. Oh and a snack room.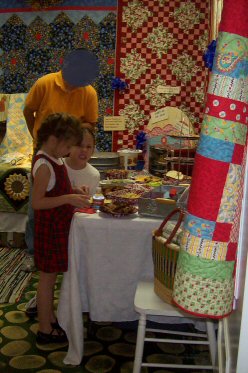 Alice & Jake in the snack room at the Quilters Patch
(you can see Jake likes to make a scary face when I take his picture!)
The first day was long but very fun. It was just over an hour to Victoria and the town just looked like such a great place. We've talked about going back and having dinner or going shopping there.
Next we headed to Port LaVaca – and I have no pictures to share. They had a lot of fabric that I loved (pictures of fabric soon!) and I bought most of an entire line they have. I also bought a book of patterns there! They had homemade chocolate chip cookies too, which made the kids happy. I ended up finding most of the matching fabric I needed at the Port LaVaca shop too.
The first day was very fun. We ended up having to rush home because Jake had soccer practice, then afterward we all came to the house to eat dinner. Tomorrow I'll tell you about Day 2 and changed plans!