We are on our second week of homeschooling! We are having a lot of fun though there have been rough patches here and there. We got off to a late start since my Grandma passed away and we were out of state during that time, I took workbooks with us but of course we didn't work on any of it.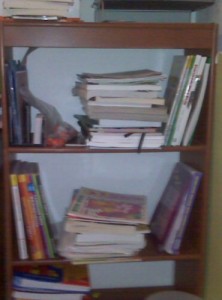 Blurry bookcase (wow my camera phone isn't that great!)
Texas doesn't have a rule of how many days you should teach but I try to follow the typical school year, at least as far as starting and stopping. Somedays I document what we do on the weekends or over the typical school year holiday break, and sometimes we take a break too.
Since we are still unpacking a bit I'm not surprised to find more workbooks or study guides as I open new boxes. Well it's a good thing I am still unpacking the boxes rather then letting them sit in the garage because we have way more then I thought we did! Jake is set for kindergarten and first grade that's for sure, and Alice may need some new items in a few months time. But for now, we have more then a three shelf bookcase packed full of books. I'm only talking the workbooks and study guides or curriculum. The regular books we read are in our bookcase. I set up a homeschool area in the dining room just so it would be all in one specific spot. There is a three shelf bookcase and the desk, though most of the time we sit at the table.
I'm keeping a notebook with quick notes about what we are doing and I save everything. I need to figure out a better system because saving everything isn't the smartest idea since we move a lot! I'm going to end up with tons of paperwork and projects that we bring from place to place!
Do you homeschool? How is your space set up?