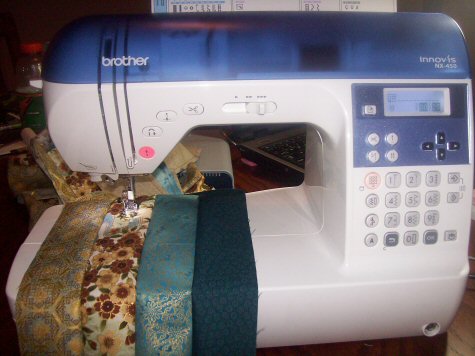 What brand and model do you have? Brother Innovis NX-450

How long have you had it? since December 2008

How much does that machine cost (approximately)? Mine cost approximately $700 from a Singer Sewing Center, I didn't look anywhere else to compare prices. The price included a year warranty through the store as well as a free cleaning within a year of purchase.

What types of things do you sew (i.e. quilting, clothing, handbags, home dec projects, etc.)? So far I have sewn quilt tops as well at machine quilted a few quilts and I've made a couple of purses. I'm working on mainly blankets and quilts for a family event so that'll be what I make for the next few months.

How much do you sew? How much wear and tear does the machine get? I sew at least every other day. There will be times when I sew every day and then times when I don't sew at all (during our vacation). I did use it just about every day for three months getting the secret quilt projects ready. Since we were moving I wanted to take advantage of the free cleaning from the store I purchased it from, who said since I only had it for a few months it wasn't necessary. However, the needle threader quit working so I had them look at that and do the cleaning. It was an easy fix (which I didn't pay for) and they also did the cleaning. I do notice when something happens with the thread you need to take the bobbin out and put it back in, and since I do so much sewing I do change the needle fairly often. 

Do you like/love/hate your machine? Are you ambivalent? Passionate? Does she have a name? I really like my machine! I'm sure I will love it once I use more of the functions. I have used some of the decorative stitches when I do the edge of the quilt (just decorative on the binding) but I really haven't done a lot of them. I really want to use more of the stitches just because they are so cute! I also have a couple of styles of the alphabet available and want to use them for something. Maybe the signing of a quilt! Definitely passionate about it! And no, no name yet.

What features does your machine have that work well for you? I do love the needle threader as well as the cutting function – okay the cutting function is awesome! The machine just in general works really well. I also love how quiet it is.

Is there anything that drives you nuts about your machine? It can be annoying when I am starting sewing something and the beginning edge of that fabric is pulled down into the – whatever that area is called that the needle goes into. But it doesn't happen too often.
Do you have a great story to share about your machine (i.e., Found it under the Christmas tree? Dropped it on the kitchen floor? Sewed your fingernail to your zipper?, Got it from your Great Grandma?, etc.!)? We want to hear it! When I got this machine I walked into the store and looked at three models before picking this one. It was our anniversary and we were heading off to dinner! I needed a new machine desperately because I had so many projects I was working on. I didn't take too long to buy this and despite not having done any research beforehand, I am very happy with it. It took me maybe 15 minutes to pick it out and purchase, we got to the store right before it was closing that evening.
Would you recommend the machine to others? Why? I would! I think this is a great machine because it is about mid-level as far as pricing. I think you do need to spend a little more so you will get a machine that will last. I had my previous two machines for a very short amount of time before they broke.

What factors do you think are important to consider when looking for a new machine? Functions – if you use a certain thing over and over or are used to having it, your new machine would need this function as well. The price of course. How heavy it is can be a deciding factor for some people.

Do you have a dream machine? At this point, I don't. I am happy with my machine!