Podcast: Play in new window | Download
Subscribe To The Me Being Crafty Podcast! RSS
Head over to iTunes and subscribe to Me Being Crafty so you don't miss an episode! You can also subscribe on stitcher.
Welcome to episode 006 of the Me Being Crafty podcast, where we explore creativity in your life.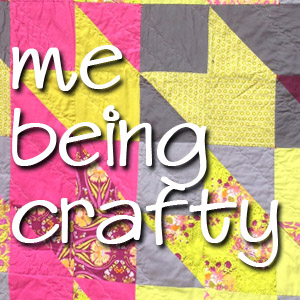 In this episode I talk to Andrea Rennick, of Quilti.com. She is making amazing quilts, selling on etsy, drafting clothing patterns, and planning free motion quilting video tutorials. You need to go to her site and check out the Mariner's Compass quilt that she recently made. It is stunning. And even more impressive – she does all of her free motion quilting on her domestic machine!
Andrea and I talk about her creative journey from learning how to sew from her Grandmother, to refashioning clothing as a teenager, and making clothes for her own children. She still has a few of the things she made, and she's coming back to working on clothing patterns now. She was struck by the work Angela Walters has done, and really related to her as well since Andrea also learned to sew from a grandparent, and says that the modern quilt movement was like, "a breath of fresh air, like a stuffy old door suddenly opened and the windows flew up into sunshine, rainbows, butterflies, puppies." Close your eyes and picture the modern quilt movement – what do you see?
For many of us, taking the time to be creative is something that we need to schedule into our day. Andrea schedules time in to quilt and sew, and her husband Ron also recognizes that she needs this creative outlet so he will tell her, "go sew for 20 minutes." I appreciate when our partners recognize this about us! Being creative gives us so much – it makes us happy, it brings joy to our lives, it helps us be calm, it encourages us to share our gift of creativity with others – and we need to take the time for ourselves. There should be no guilt about taking time for yourself. Mom's often have a hard time being individuals and doing something creative can help us find who we are after we have our babies. Do not be afraid to take time for yourself, schedule that into your day, we all use calendars so block out some time to do something creative.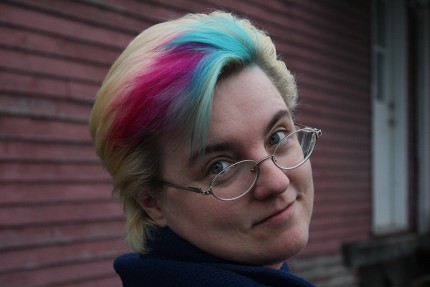 Andrea and I have known each other for years and years, we were thinking that we met back when my big kids were little and I was homeschooling. Andrea is also amazing with wordpress, her day job is in wordpress support, and her quilting is awesome. Thanks again for being on the show Andrea!
Where you can find Andrea – AndreaRennick.com – Etsy Shop – Andrea on twitter – Andrea on instagram
Listen to episode 006 and let me know how you take time for yourself. Use your calendar to take 20 minutes every morning to do something just for you. I've mentioned that I like having multiple projects in various stages of completion and this is exactly why – if I only have 20 minutes on a busy day, I can still take the time to get something done.
Leave me a comment and let me know how you were creative today. Me, I finally figured out the design for my beadwork project!